Moving From San Francisco to New York - Shipping Your Car
If you're planning to take your car with you when moving from SF to NYC, understanding the process and available options, can make the task of transporting your vehicle to New York very simple. Reading through an Auto Transport Guide can provide some valuable information.
How can I ship my car to New York?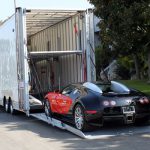 There are in fact many options when it comes to transporting your car across the country to New York. Being informed about the pros and cons of each option can help you make an informed decision on what is best for you, and your family.
Professional moving company
If a moving company has experience, and the proper equipment, then some moving companies can also ship your car with your household furniture. When you receive quotes for shipping your household items, inquire if moving your car along with the furniture can be done through the same moving company.
Professional auto transporter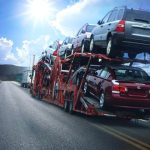 Auto transporters specialize in shipping and transporting vehicles, most commonly cars, across the country. Moving from San Francisco to New York is a common route for professional car transporters. They use open or enclosed trucks. Naturally, the enclosed truck provides more protection for the car. If you have a rare car, a collectible, or just want to ensure your car is protected, then using the services of an enclosed truck would be best.
If you hire a car shipping company to transport your car, or multiple cars, they will handle every aspect of moving the car from your current home in San Francisco to your new home in New York. This is called door-to-door service. Using a car shipping company is convenient and frees your time to focus on other areas of your move. 
The cost to hire a professional car shipping company is based upon your individual move and the type of car you're transporting.
Distance from San Francisco to New York
Model of car
Weight of car
Type of truck (open or enclosed)
Destination – remote locations increase the cost
Drive it yourself
 Driving your car across the country sounds very exciting, and it can be. However, before you jump in the car and began driving, sit down and do come calculations. 
Gas – How much are you going to use and how much will it cost? Calculate the distance from your home in San Francisco to your new home in New York to find out how much fuel you're going to need.
Toll roads – What route will you take? If you take the scenic route, factor in average costs for toll roads.
Lodgings and food – Depending on the route you take, how many days will you be on the road? Add to your Budget the cost for hotels and food.
Time of year – What time of year will you be relocating? Driving across the country in the winter could be problematic, bad weather and road conditions could cause delay.
If you're already doing a DIY move for your household belongings, than you might already be planning to use your car to transport some of your items. If you will be renting a truck, you could haul your car using a trailer attached to the back of the rental truck. This option could also be used if you have multiple cars to move.
Hire a professional driver
It's possible to have an individual, or a company that specializes in driving cars from one place to another transport your car, from your home in San Francisco to New York. This service is called "Driveaway". The person that will be driving your car can take the car anywhere you need it to go. Unlike a large car transporter that might not be able to deliver to certain parts of New York. The driver of your vehicle will drive alone; they are not permitted to take people, they will be insured and your car will be in the hands of a professional. What they can do, which might come in handy, are transport pets. So, if you have a pet that needs transporting, consider hiring a professional driver to deliver both your car and your pet.
How much will it cost me to ship my car to New York?
The cost to transport your car across the country will depend on which method of shipping you opt for. Hiring a professional auto shipper or professional driver will cost you more than to drive it yourself. However, what you do need to take into consideration when driving the car yourself or hiring a professional driver, is that you will be adding thousands of miles on the car, and the car will also have added wear and tear.
Summary of costs
Do it yourself – Gas, oil, any repairs en-route, lodgings, food, toll roads, added miles, wear and tear.
Professional auto transporter – Cost of open or enclosed truck, distance, model and weight of car.
Professional driver - Added miles, wear and tear. Hiring a friend or student can lower the cost.
 Recommended reading
Auto Transport Preparation Before Your Long Distance Move
Moving Your Vehicle - Pickup
Moving Your Vehicle - Delivery