Moving Your Vehicle - Pickup
If you choose to hire a car carrier to move your car, there are certain things you need to know in order to be prepared for the pickup and to assure that your car's pick up goes as smoothly as possible.
Preparing for Your Car Pickup
Before your vehicle is picked up, follow these steps to assure that the vehicle is ready to be safely transported.
Remove Personal Belongings
The first step is to empty your car from any personal belonging that might be stored in your car. Empty the trunk and don't use the available space to ship any personal belonging.
A car transport company is not a moving company and often is not allowed by law to transport personal belongings for its customers. This is a licensing issue; a vehicle shipping company's license prohibits its holder from shipping personal belongings. In addition, your items cannot be properly insured when transported on a car carrier.
As you empty your car and preparing it for transport, don't forget the exterior. Secure or remove any loose parts or specialty items from your car such as spoilers, fog lights and other effects. Fold back your mirrors and lower or remove the antennae.
Document Existing Damage
Washing your car is not done for cosmetic purposes. Whether your car is transported on an enclosed carrier or an open one, it is important to wash your car so you can properly inspect it before it is transported for scratches, dings, and other current cosmetic damage.
As the driver picks up your vehicle, thorough inspect your vehicle. Document its condition in order to ensure any claims of vehicle damage are accurate and enforceable. Be sure to create a complete documentation of any pre-existing damage.
Another common way to document your car's condition is to take dated photos of the vehicle prior to shipping it.
Fuel and Car Fluids
Fuel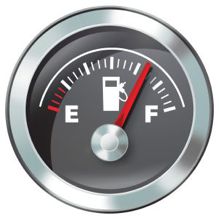 Do not ship your car with a full gas tank. Keep the tank low, in between 1/8th to 1/4th of a tank to help the carrier save weight, your car transporter will appreciate that.
Car Fluids
Top off all of the fluids on the vehicle and inform the drive about any leaks. Cars leaking oil, brake fluid, or transmission fluid must be shipped on the bottom of a two deck open trailer. This is to prevent leaks onto the paint of vehicles below.