Convenience of Hiring Professional Packers
Hiring packers is very convenient! If you're hiring full service movers NY to LA to transport your belongings, it's likely that they can also provide packing services. If your moving timeline is limited, then having professionals pack your stuff can save you a great amount of time. When a packing team comes into your home to pack up your belongings, this is all they do. Therefore, depending on the size of your move, it could be completed in a very limited amount of time. This can be beneficial if you want to keep your home as it is, without any disruption until moving day. To do your own packing can be time consuming, and leave your house unorganized for sometime leading up to the move.
Another area where time can be saved is on the materials that are used for packing. If you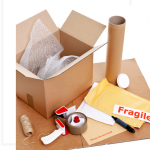 do your own packing, you'll need to purchase all the supplies and assemble the boxes being used. This all takes time. If you hire a professional packing service, they bring all the packing supplies needed, assemble everything, and then remove any remaining supplies once everything is packed up.
If you have decided to hire professional packers to pack your New York home, use the time before they come to get rid of any items that will not be moving with you to Los Angeles. About 6-8 weeks before the move is a good time to start sorting through your belongings and decide what you want to keep, donate, or even sell.
Reputable moving companies provide experienced and well-trained packing professionals to provide excellent service. They ensure that your belongings are handled with care and packed professionally.
Will I be insured if professionals pack my belongings?
Yes, hiring professional packers ensures that you have liability coverage in the event that damages happen to your belongings while they're in transit. If however, you do your own packing, the moving company that you hire to transport your items from New York to Los Angeles, will not be liable for any damages that might occur while your belongings are in transit.
How much does it cost to hire professional packers?
When thinking whether to hire professional packers, or to pack yourself, consider these few things, among others when making your decision.
• How big is your move?
• How much time do you have before you need to move?
• Will you need to take time off work to pack?
• How much will packing supplies cost you?
• Do you have a moving budget?
• Will you require any additional services?
• Are you comfortable with people handling your belongings?
Once you have answered these questions and calculated how much time you'll need off from work, and how much you will spend on packing materials, you'll see that the cost to hire professional packers might not be as costly as expected. Some companies charge packing services at an hourly rate, some a flat rate. When receiving estimates from moving companies for the transportation of your belongings to Los Angeles, also obtain different estimates for packing.
Can I Manage The Packing Process?
Yes! Being present to coordinate and guide the packing team can be very beneficial, especially if you want to have involvement in the process. There is also the option to have partial packing services. You pack some items and then the professional packers come and pack other items.
Whether you manage the move, or opt for partial packing services, it is advised to pack your own personal belongings, valuable items and non-allowables. These will be staying with you throughout the duration of the move as moving companies are unable to transport many of these items.
Professional packing services are a great solution for busy individuals and families, or for those items that need special handling. They help make your move from NYC to LA more enjoyable, providing you time to manage other aspects of the move.
Recommended Reading
Packing 101
Packing Materials For Your Long Distance Move
Your Guide to Packing