Your Guide to Packing
Packing is usually the first thing that comes to mind when planning a move. Some may find that it requires a specific skill to pack everything carefully in an organized way. Depending on the size of your property,
packing your household goods
can be fast and simple or arduous if you have a lot of stuff. The main thing you need to ask yourself is, "Do I want to do my own packing?" or "Do I want to hire a pro to pack for me?"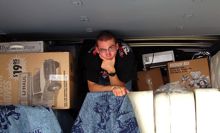 Hire a Pro. Vs. Do It Yourself
When considering your options to hire out your packing service, there are things you will want to keep in mind to make the best choice. First, if you are moving out of a large home or have limited time to finish your packing, you should probably hire your moving company to perform this task for you. The benefit of hiring your moving company to pack is that you won't have to work as hard, and you can rest assured that they will pack everything securely. The downside is that your moving day will be longer, and your moving cost will be higher. It is important to notify your moving company beforehand if you decide to hire them to pack your household for you. This will allow them to adjust your moving estimate and bring the appropriate materials on moving day. If your move size is large (3 bedrooms or more), you may need to dedicate one day for packing and one day for loading and moving. Every moving company offers two packing services:
Full packing service that includes wrapping and packing absolutely everything in your household.
Partial packing service that includes packing just the large, heavy, bulky items such as furniture, appliances, etc.
If your budget is tight and does not allow you the privilege of a packing service, doing your own packing can save you a considerable amount of money. However, if you do choose to do the packing, make sure you don't pack boxes to heavy. This will make the work much harder for the movers and there's a higher chance of your boxes falling apart with too much weight in them. Also, although you may have decided to do your own packing, your moving company will still wrap furniture items to protect them from damage. That may come with a charge, so if you are trying to save money, be sure to ask about that beforehand. Whichever route you choose, try not to stress out over it. You've got a new adventure coming up. If you have a family, packing with them can be a great time to get excited about the upcoming trip. It's also a great way to get
kids
involved and help them through any worries they might have about their new home.