How to prepare for moving day
As your moving day approaches, creating a moving checklist is a good way to start preparing for the actual day. It's very similar to the planning process that you went through at the beginning of your move, but far more simple. It's a sure way to stay organized and keep on track with the tasks that need to be accomplished and ready for moving day.
If you're hiring movers San Francisco to New York to transport your belongings, contact the moving company a few days prior to the scheduled move to confirm your pick up. Make sure to go over details including: the date and time that they will arrive, the pick up address, and any contact information for everyone involved in the move. Go over any special instructions to make sure everyone understands and that the moving crew will be prepared.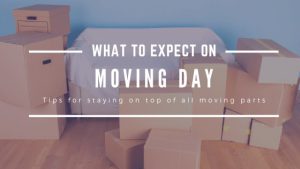 If you're doing a DIY move and renting a truck, contact the rental truck company to ensure your reservation. Go over all the details to double check and confirm everything is correct. If you're moving SF to NYC and will be using your own car to transport your belongings, schedule a service for your car about 3 weeks prior to your moving day.
Depending on the size of your move, there's usually a lot happening on your moving day. Having a good nights sleep and rising early will give you time and energy to take care of any last minute tasks, and ensure you're ready when the moving truck and crew arrive to begin loading your items. If you're doing a DIY move, plan your departing time with the traffic. Weather conditions might also play a part in deciding when to hit the road.
What should I expect on moving day?
There will be a lot of movement on moving day, with all the people in the house, and finalizing any last minute things, that chaos might occur. To keep things progressing smoothly, knowing what to expect on moving day can be very beneficial.
Begin the day early – Rising early is a good idea, even if your pick up is scheduled for the afternoon. It allows you time to double check things and go over any last minute details.
Documentation – Have all your paperwork that is connected to the move accessible. If you need to refer to anything, you will want to have it at your fingertips. All personal paperwork is to be kept with you for the duration that your items are in transit. Once the truck is loaded, you will be given your bill of lading. Before signing, go over it in detail. Keep this with all your other moving paperwork.
Essentials – Some moving day essentials, such as extra boxes and tape might be needed last minute, and having some basic tools at hand is a good idea, things like: markers, pliers, flashlight, and a box cutter/utility knife is always convenient to have around.
Safety – Injury and damage can occur on moving day. It is important that only the people that are needed for the move are at the house on moving day. If possible, any children and pets should be kept away while the moving crew are lifting and loading items onto the truck.
Supervision – There needs to be an authorized adult present to supervise the move.
Snacks – providing the moving crew with water is advised, and any light snacks can also be offered. It's also very important that you eat and drink throughout the day.
Should the movers be tipped at the end of the day?
Tipping your moving crew at the end of the day is advised, it allows you to see how each individual or team has performed. You can either give the tip directly to each moving crew member, or to the foreman who will then share the tip among the moving crew.
Recommended reading