1 Day Before Your Move
Congratulations! Your move day has finally arrived. This is the last night you will be sleeping in your old residence. By now you must be excited and impatient for the big day. If you followed this guide you should be almost ready to move.
At this point it is recommended to go over this guide again to confirm you did not forget anything and that you are really ready for your move day.
For your convenience and in case you did not print this guide, here is a list of links to all related steps in the moving process:
Prepare Your Refrigerator and Freezer
If you haven't done so by now, this is when you need to empty, defrost and clean your refrigerator and freezer. Empty the refrigerator and the freezer completely and use baking soda to eliminate any odors. You can also leave the baking soda box in the refrigerator while it is in transit.
Prepare Your Stove and Oven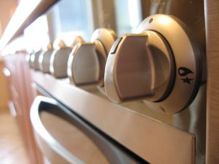 Empty and clean your stove and oven. Here too, you can use baking soda to eliminate cooking odors. Be sure to reinforce everything you leave in the oven so it will not move or break while your movers load and unload the oven.
Packing
If your home is not fully packed by now, you will have to finish up all packing today. If you need, call for help. Ask neighbors, friends, and relatives to help you finish your packing on time or call your moving company and inform them that you will require some packing services.
Remember to label all boxes and keep a complete inventory list for your records.
Disassemble and Disconnect
If you did not ask your movers for this service, do your best to have all of your furniture disassembled and all your appliances disconnected and packed. If you cannot complete this task by tomorrow, inform your moving company that you will require this service.
Be sure to dry out all water related appliances such as: washing machine, drier, dishwasher, freezer, and refrigerator.
Finalize Trip Arrangements
Do not leave this task for the last minute as tomorrow is going to be a busy day
Pack your suitcases
Prepare a box of food and refreshments
Prepare a box with toiletries and all bathroom items that you can only pack tomorrow
after your family members are done using the bathroom
Charge mobile phones
Take time to relax before the big day and get a good night sleep.