Moving Day Preparations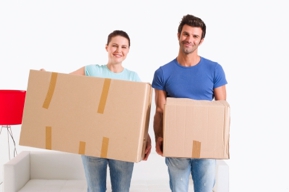 If you've never moved before, you might have no idea what to expect on your moving day.
Sure, you have everything packed up in your old home, and you have your new home ready to receive your worldly possessions. But now what? We let you know below.
1. The moving company should let you know well in advance when the moving crew will show up. When they do arrive, there will be a driver/van operator who is often the supervisor of the crew this is your go-to person for any questions or concerns throughout the move.
2. The first thing moving companies will generally do is prepare a written inventory of your items to be moved. They will assess each item's current condition and assign it a number for the inventory. You should agree with the assessment, and check to be sure that nothing is listed incorrectly on the inventory. The purpose of the inventory is to ensure that all numbered items arrive at your destination in the condition in which they started; it's also done so a damage claim cannot be filed on items with previous damage. Make sure you agree with everything -- your signature indicates your acceptance and agreement with the inventory.
3. After the inventory is finished, the moving company will start loading the moving van. They will determine the best order in which to load the moving van and move things from your home. Be sure that items you don't want loaded -- like personal items and high-value items that you plan to carry with you separately -- is clearly set aside from the things to be moved. This is particularly important for cross country moving, where you'll be apart from your items for a long time.
Professional movers have a systematic technique of loading your furniture and other items. Each piece will be pad wrapped and taken from the residence to the truck.
The movers will load the truck from floor to roof in a manner that's like putting together a jigsaw puzzle. In order to prevent shifting of the load, and to prevent damages to your goods, they will fill every hole so that your shipment is loaded tight.
So they may bring pieces from different rooms to have the right size to fit. Don't be alarmed if your items appear to be mixed up while on the truck; you will tell the movers exactly where you want each piece placed once it arrives at your new home.
4. Now move out of the way! You hired the moving company so you didn't have to do all this work, didn't you? So relax and let them do all of the hard work.
5. Once everything's all loaded up, the driver will present you with the bill of lading, which lays out of the conditions of your move. Make sure you're satisfied with everything on this sheet before signing  you're releasing the goods to the mover! You will sign the bill of lading again when you receive your items at destination.
6. Before the movers leave, make sure they have your cell phone as well as a secondary number by which they can reach you, as well as your new address and directions to your place. Doesn't hurt to reconfirm all this information.