What is moving insurance?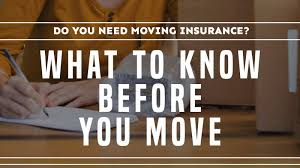 Moving insurance is protection that in the event of any unforeseen circumstances, when moving from NYC to LA, that your personal belongings will be covered while they're in transit. This includes when your items are en route on the moving truck, and while they're in storage, should you require storage during the moving process. Reputable moving companies will do all they can to ensure that your items arrive safely to your new home in the same condition, as they were when the moving crew picked them up. However, in the event that something did happen, such as: theft, fire, motor accident, or a natural disaster, having insurance means your effects will be covered.
Are there different types of moving insurance?
Yes, and if you will be hiring movers NY to LA to transport your belongings across the country, the moving company must advise you about your options and what coverage is available to you. It's very important to understand that moving companies offer valuation, not insurance. There are two types of valuation provided by reputable moving companies:
Released Value Protection – provides basic coverage for your belongings. This coverage is free to you, from your moving company. However, if anything does happen to your items while in transit on a long distance move, the moving company accepts responsibility for only .60 cents per pound, for each item.
Full Value Protection – opting for full value protection provides far more coverage than released value protection. If your items are damaged, lost, etc. the moving company accepts responsibility. After you have met your deductible, the moving company will either:
• Repair the item/s
• Replace the item/s
• Pay a sum amount to repair, or to replace the item/s.
If you have items of value that are being transported by a moving company, such as jewelry, antiques, or high-end equipment, you are responsible to list these pieces separately. Moving companies are permitted to cap the amount of liability for any valuables that are valued at $100 or higher, per pound.
When deciding on the right coverage for your move, the one important thing to look at is, how much are your personal possessions that you're moving, worth? If you have belongings that are of high value, then it's worth considering insurance options through a third party.
Third Party Insurance Options
Purchasing insurance from a third party company will provide peace of mind that your items will be insured for their valued amount, should anything happen to your belongings while en route.
Will my homeowners or rental insurance provide coverage for my move?
If you have homeowners or rental insurance, contact the company directly to find out what your insurance covers and if your belongings will be insured during a long distance move from NY to LA. If you're going to be cancelling your current homeowners or rental insurance, then you will not be covered. If your homeowners or rental insurance does cover your items while in transit, it's extremely important to understand exactly what you will be covered for. Look through the small print.
Pay attention to the details of any policy you are considering and weigh out all your options before purchasing insurance. Make sure you understand the rules pertaining to an individual policy. The devil is in the details, and this is where it could cost you if you are not clear on the guidelines of the policy. Once you have decided on the right insurance for your move, make sure you purchase it before the movers arrive and start handling your items and loading them onto the moving truck. It's also important that your belongings are insured for their correct value, should you need to replace anything and file a claim.
Knowing about all the different options available for moving coverage, allows you to make an informed decision when the time comes to choose what kind of insurance will work best for your move from New York to California.
Recommended reading
Long Distance Moving Insurance
Basic Insurance
Moving to the West Coast