How to Change Your Address
When you move from NY to LA, coast to coast one of the things you're going to need to do before relocating is to submit a change of address with the US postal service.
How do I change my address?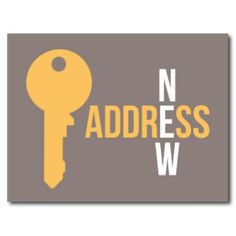 Changing your address with the US postal service is quick and easy. It can be done online; you will be required to pay a $1.00 fee to process your request. You can also fill out a change of address form in person at the post office, form 3575. There is no fee for filling out the form in person. Another alternative is to do it over the phone.
Submitting your change of address should be done at least 4-5 weeks prior to moving from your home in New York. It can take up to 10 days for your request to be processed. There is also an option to set a specific date for mail forwarding to begin. Once you know your move date, you can schedule your change of address, and mark one more thing on your to do list as completed. Once you have set up mail forwarding, for 6 months your mail will be delivered to your new home. If you need to lengthen the amount of time mail is forwarded, it can be extended for up to one year by contacting the United States Postal Service.
What if I don't have a forwarding address?
If you don't have an address yet in Los Angeles, or will not be going directly to California, you can have your mail forwarded to the local post office in the city that you plan to move to. If there is more than one post office in the city, call the US postal service to confirm which is the closest to where you will be living. The local post office can hold your mail for 30 days. In order to collect your mail, you will need to pick it up in person and show valid identification. If you need mail to be held for longer than 30 days, contact the USPS (United States Postal Service). They offer a premium forwarding service that gets your mail to you, wherever you are. You can use this service for a minimum of 2 weeks and up to 1 year.
Changing your address in other places
In addition to submitting a change of address with the post office, you will also need to notify any providers and services you receive. These could include: utility companies, government agencies, financial institutions, and any subscriptions. Most of these changes can be done online, making it a quick and easy process. With some of the companies, such as the IRS, you might need to call and speak with someone, or even fill out a form to make the changes.
Telephone and Internet – Its always best to advise telephone/internet providers of your change of address in advance of your move date. If you will be using the same provider in Los Angeles, you can let them know the dates you will be leaving your home in New York and arriving into LA. If you're considering to change your provider, or the provider does not service Los Angeles, this is the time to look into new telephone/Internet providers.
Utility companies – New York and Los Angeles use different providers for gas and eclectic. Therefore, you will need to cancel your existing accounts with the New York utility providers and set up new service with providers in Los Angeles. If you already know your move in date, you can schedule service to begin.
Financial institutions – You will need to inform your bank, credit cards, mortgage company, and any other financial institutions of your change of address.
Government agencies – When you relocate from New York to Los Angeles you will need to update your address with the IRS, Social Security, the Department of Motor Vehicles, Voter Registration, and if relevant, Immigration and Naturalization Service (INS).
Insurance companies – If you have any car/auto insurance, home insurance, renter's insurance, health insurance etc. you might need to cancel your policy that provides coverage to New York residents and begin new policies in Los Angeles. If you will continue to have coverage in Los Angeles through any of the insurance companies, then a simple change of address will be all that's needed.
Online accounts – In addition to changing your address with your utility providers, insurance companies, etc. you may also have many accounts online and companies that you work with that have your current address in New York. Don't forget to update these online accounts with your change of address.
Subscriptions – Magazines, DVD subscriptions that you receive in the mail, online subscriptions such as: Netflix, Amazon, will all need to be updated with your new address in Los Angeles.
Recommended reading
Moving To The West Coast
Moving Long Distance To Los Angeles