Moving to the West Coast
You are not alone if you have been considering moving cross country to the west coast. There are many people that feel this way after seeing that the cost of property is so expensive in other parts of the US. Land has become so expensive in certain areas that people are deciding to buy vacant and undeveloped land on the west coast.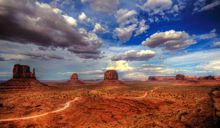 People are moving to the southwest and mountain west because of all the high prices and limited availability of land in the east. You'll find that underdeveloped land has become more popular in places like New Mexico, Colorado and Arizona. These areas have are become more popular to people because they are more affordable while the cost of land is still expensive in other western areas.
The state of Arizona is popular for younger couples and retired people looking to set up residency because of its cleaner environment for the whole family. If you have been considering moving to the west coast and buying undeveloped land, you'll find it is a good investment either to build a home or to sell it for a profit. It's a good investment to purchase land in Arizona because as the development of this land takes place land prices will continue to increase. Land that is vacant in Arizona has fewer restrictions compared to the east and Midwest.
With its great weather and beautiful skies, moving to the west coast is perfect for many people. With sunshine all year round, Arizona is a comfortable place to live and raise a family. There are tons of great outdoor activities you can do such as golf, hiking, and horseback riding, to mention a few. Arizona is also a great place to retire for people who enjoy the outdoors and want to live in a location with lots of sunshine. You will also find that there are many museums that are interesting for people of all ages. The great thing about Arizona is that it is very affordable for people to live. Everyday there are more and more people that are buying up land in the west with all the benefits that it has to offer and some of this land can be purchased using a small amount of money and then taking over monthly payments.
Recommended Reading
Moving to the East Coast
Moving West To San Francisco