What to do in San Francisco
The Californian city of San Francisco is not only diverse among its population, but has a diverse Cityscape as well. The city offers great museums, mountains and dining at fancy restaurants in the famous Fisherman's Wharf.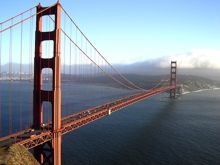 San Francisco is one of the top most popular destinations to visit in the world with the wide variety of things that are available to experience. If you move to San Francisco you can see many things like the Golden Gate Bridge which is the bridge that first welcomes visitors to San Francisco. This landmark, which towers over the bay, is very well known all around the world and is a big tourist spot. If just visiting San Francisco instead of moving to San Francisco, let this be your first stop. It is quite a site to see.
Chinatown is another great place to see while you are in San Francisco. Chinatown is a large neighborhood with a population of around one hundred thousand people. This makes it an interesting neighborhood to visit. Fisherman's Wharf is filled with many tourists and is know as the tourist trap to many locals. The Fisherman's Wharf has many great activities to keep on busy such as boat rides, great seafood and sightseeing to mention a few. While this area is great to visit, it is also known to have many tourist rip offs so be mindful of your money.
The next place you should visit is Alcatraz Island located in the San Francisco Bay. Here you can take a tour and learn the history behind this former federal prison. If you are moving to San Francisco there are so many things to do (been to a SPA lately?) and places to see that you won't even know where to begin your trek. If you have trouble making up your mind, a good place to start is to take a ride in the San Francisco Cable Cars which will take you through the city for a nostalgic ride of all the interesting sites within San Francisco. This great city offers so many activities for people of all ages and is great place to move to or visit. With its blend of historic past and present, it's no wonder that it is considered to be one of the most popular cities worldwide to visit.
Recommended Reading
The Economy Of New York
Horseback Trails In San Francisco
San Francisco Amusement Parks
Golf In San Francisco