Where to Play Golf when Moving to San Francisco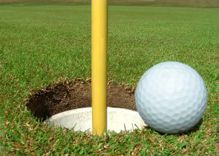 Moving into a new city means having to find new places that make it possible to settle back into the routine that was left behind. For some people, this includes the sport of golf.

The golf courses in San Francisco are distinguished from other places because they have the unique combination of history and natural beauty. Most of the courses in this particular area are deep-rooted and have seen its share of significant events. They also boast of rolling hills and sweeping views of the Bay Area.
Presidio Golf Course is one such place where you can play golf when moving to San Francisco. It is a full-service golf club which offers a driving range, two putting greens, a pro shop, and restaurant. Built in 1896, the Presidio is one of the oldest golf courses in the area and is known for its 18 holes of pure golfing challenge. The fairways are narrow and there are hilly inclines to test the skills of any golfer. Its reputation for building the proficiency of golfers regardless of their playing level is one of the reasons why the Presidio Golf Course is a constant favorite.
Another option for those looking to play golf is the Lincoln Park Golf Course. It is the quintessential San Francisco golf course because it typifies the beautiful landscapes that the area is known for. For those who have just made their move to the city, it is the perfect way to be introduced to San Francisco. Walking through its greens, golfers are given the chance to marvel at the spectacular vistas of the Golden Gate Bridge and the Pacific Ocean. This 18-hole course was opened in 1902 and has always enjoyed an illustrious reputation. Some of the most prominent golfers in history like Bobby Jones and John Miller have practice their famous swings in Lincoln Park Golf Course.
The Harding Park Golf Course is one other place to go to when looking at where to play golf when moving to San Francisco is. It is a favorite of locals and visitors alike because of the renowned status of its 18-hole landscape. When this 18-hole course was opened in 1925, it was touted as one of the most significant public layouts in the United States. The design created by William Watson took full consideration of the bodies of water located nearby. The Harding Park Golf Course purposefully showcases the views of Lake Merced and the Pacific Ocean. In 2000, Harding Park Golf Course was renovated under the supervision of the PGA Tour Design Services to enhance the experience of playing golf.
Golfers know that there is no better way to end a very busy week than to take to the greens and work on their game. It is also an ideal location for establishing new relationships, both personal and business. Fortunately, there is no need to look very far when it comes to finding places where to play golf when moving to San Francisco.