New York Economy
The economy of New York is by no doubt thriving. Back in the year 2006, New York's was ranked third in gross state product, which was over one trillion dollars, just behind Texas and California.
If the Empire State were its own independent nation it would have the sixteenth largest economy in the world. Recent statistics show that the citizens of New York make an average of forty thousand dollars a year.
Agriculturally, New York's strengths and outputs are in dairy products, apples, vegetables, nursery stock, cattle and other livestock. Its large industrial outputs are based on printing and publishing, electric equipment, scientific instruments, chemicals, machinery and, of course, tourism.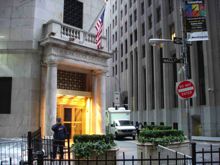 The great state of New York has a wide variety of exports like a variety of food items, minerals, computers, electronics, commodities, automobile parts and cut diamonds, and in 2007 New York exported almost seventy two billion dollars worth of goods. The five largest foreign markets that New York exported to were Canada, the United Kingdom, Switzerland, Israel and Hong Kong. Some of the largest imports to New York are oil, natural gas, gold, aluminum, rough diamonds, electricity and lumber. Canada has been an important economic partner for some time with twenty-one percent of the New York's worldwide exports being shipped there in 2007. Canada also contributed a great deal to tourism in New York and it's calculated that Canadians spent almost five hundred million dollars in 2004.
New York City, also known as The Big Apple, is New York's leading center of banking, finance, and communications. Not only is NYC the state's leader in these fields, it is also the top leader in the entire United States of America. The New York Stock Exchange (NYSE) is also located in New York City and is the largest exchange of its type in the world.
It comes as no surprise that many of the world's largest corporations are based in New York City. New York also has a large manufacturing sector that thrives off printing and publishing, production of garments and furs, bus line vehicles and railroad equipment. Most of these latter industries are located in upstate New York. The city of Hudson Valley and Albany are centers of nanotechnology and microchip manufacturing and all along the Hudson River there are a numerous manufacturing hubs.