San Francisco Demographics
The estimated population of San Francisco in the year 2007 was seven hundred thousand nine hundred seventy six which made the population density during that year nearly sixteen thousand people per square mile. San Francisco is, therefore, the second most densely populated metropolis in the United States.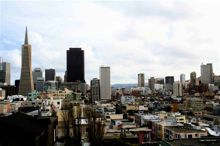 The city of San Francisco is known to be the traditional central point of the San Francisco Bay Area and also forms part of the greater San Jose-San Francisco-Oakland Combined Statistical Area. The combined population of these areas is over the seven million mark and is the fifth largest in the United States.
Similar to the city of Los Angeles, San Francisco is a minority-majority city, meaning non-Hispanic Caucasians comprise less than half of the population. The Census Bureau estimated in 2006 that nearly forty five percent of San Francisco's population was non-Hispanic Caucasian.
About a third of the population in the city is comprised of Asian Americans and Chinese Americans constitute the largest single racial group within San Francisco at around one fifth of the population.
Fourteen percent of the San Franciscan population is made up of Hispanics.
The African American population has declined over the recent decades. During the 1970s, African Americans made up thirteen percent of the population, however, as of 2006, they make up only seven percent. The current percentage of African Americans in San Francisco is very similar to that of the rest of California.
While thirty five percent of San Francisco's population was born in the city, a staggering thirty nine percent of its population was born outside of the United States entirely.
The American Community Survey done in 2005 claims that San Francisco has the highest population of gay and lesbian individuals within any of the fifty largest cities in the United States with the population of gay or lesbian at Fifteen percent.
In the year 2005, the average income per household in San Francisco was fifty seven thousand eight hundred thirty three and median family income was sixty seven thousand eight hundred nine. This is the third largest for any large city in the United States.
There is an out-migration of middle class families that are contributing to income disparity and have left San Francisco with a lower proportion (fourteen percent) of children. This is the lowest percentage in America.