San Francisco Amusement Parks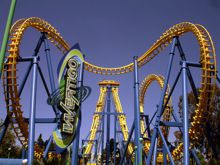 There are many great museums and cultural events in the city of San Francisco and the legendary Golden Gate Park, however, to go to an amusement park you may have to go a bit out of the city. On the outskirts of San Francisco, in Santa Clara, you will find California's Great America. This thrilling park has plenty of water rides, crazy roller coasters and a 13-acre water park. California's Great America has a one hundred acre theme park open March through November and is certainly a great way to spend the day with children.
Best Bay Area Amusement Parks
Gilroy Gardens is another great theme park located just outside of San Francisco and is California's only horticultural theme park. This unique park serves as a learning environment for children and adults alike and is home to the world-famous Circus Trees. Gilroy Gardens has twenty-one rides and six stunning gardens. You will also find boats visits with Santa, skating under the stars and many holiday themed rides available.
A great park located in the San Francisco Bay area in Northern California is Six Flags Discovery Kingdom, where you can find exciting rides like Kong, Medusa, and train rides like famous Boomerang Coast to Coaster. Rides like these will get your heart pumping and leave you with a chill. If milder rides are more your type, they also have the Congo Queen, Daffy's Deep Sea Diver, and Frog Hopper.
Of all the parks in San Francisco, Six Flags Hurricane Harbour ranks high among the best waterparks to be found in the state of California. With thirty-five water-rides and seven complexes, guests can take advantage of the gigantic wave pool and float along on the longest lazy river in the area. Along with many 600 ft high water slides for adults, there is a whole Water Kingdom for the kids to enjoy, splash and play, making for a day of fun for the whole family. Six Flags is one of the best amusement parks the Frisco Bay area offers. You can take advantage of the concession area, or set up your own picnics and the staff will help you with it. In addition to being popular among the locals, the park is also an enormous tourist attraction, where folks end up spending the entire day. The park also provides cabanas, beach chairs and shady areas to relax on a summer day with a chilled beverage in hand.
Rides And Attractions for the Whole Family
If you like animals, the Discovery Kingdom also has great exhibits like the touch and feed area, Bengal tigers and dolphins. This San Francisco based park near San Jose has something for everyone to enjoy from thrill rides on a giant roller coaster and miniature trains to the tranquility of a zoo. During the year, the park also offers certain events such as Leadership Day, Safari Day and Health and Safety Day. You can also find good restaurants, shops and relaxing places to sit and enjoy the wildlife during your visit.
Imagine a full rich day spent on a wide sprawling beach with a bustling boardwalk including rides, games and music is why Santa Cruz Beach Boardwalk is one of the favorites among both locals and tourists. If nothing else, it provides amazing opportunities to sit by the Atlanta coastline and enjoy the view. For the thrill seekers among us, this park features rides like the Giant Dipper, Shockwave, Haunted Castle which will give you more than your money's worth. There are also casino arcades, laser tag, mini golf, and bowling alleys, along with a large number of restaurants and cafes that would take days to try them all Along with a large number of delicacies, there is a plethora of retail stores at your disposal featuring souvenirs, surfboards, swimsuits, and sunscreen.
Boomerang Bay Waterpark, which also goes by the name of South Bay Shores Waterpark, is located adjacent to the premium Great America Amusement Park in Santa Clara and is a beautiful place to spend a weekend with your family or friends. The huge wave pool, lazy river and splash area for little kids are some of the favorite attractions for park attendees. Tickets for the Great America amusement park also grant access to the waterpark. With its numerous water slides and related attractions, the waterpark is a favored destination for locals and tourists alike.
Premium cabanas, shaded lounge areas, and richly themed food and merchandise complete the package. The staff is available to accommodate all your needs and these fun rides are available and safe for every age group, and the excitement and fun of the Northern California coast and South Bay area will make this experience more than worth your while.
Looking for some age-appropriate fun for your little ones? Children's Fairyland is the place to go. Located in Oakland, California this is one of the earliest theme parks in the USA with more than 70 years of. It is said that Walt Disney got his inspiration for Disneyland from this park, which is specially made for children where they can have both an enjoyable and educational experience. The theme is based on 'fairy tales,' and there are a ton of fun experiences, kids' rides like the merry go round, train, swings, animal shows, and open play areas, since we all know how much they love to run around. Cafés offer delicious food, making it one of the best places to go for a family picnic if you live nearby. Adult rides and attractions are offered as well.
Plan Your Amusement Park Getaway
Happy Hollow Park & Zoo is one of the top ten places to visit in the San Francisco area, and an ideal place for a perfect weekend vacation with your family. With a combination of amusement park style rides, a puppet theater, open play areas for younger children and a zoo that is home to over 150 animals, the vibrant jungle atmosphere allows visitors to stroll the park to see various species from endangered lemurs to miniature horses, jaguars, meerkats, and goats.
In addition to this, the Zoo also provides visitors with educational opportunities such as classes and camps where children can learn about nature conservation and sustainability. The Zoo also has some of the nicest restaurants to be found in the area like Beta Tastin, Crawdaddy Restaurant where both children and adults can enjoy a hearty, healthy meal. If you are planning to maximize your opportunity for a day (or weekend, or week) out with your family, you should definitely plan a visit here.
Pixieland Amusement Park is a wonderful place for your little ones, a smaller amusement park that guarantees big time of fun and family rides. Also recognized as a smaller version of a Fairyland, this amusement park located in Concord, California has a bunch of rides for all ages and a play area for smaller children. The rides are not too over the top and are designed so that they can be enjoyed by both parents and their children, both. The surroundings are gorgeous, and the staff is really helpful, which also makes this an ideal location for planning picnics with friends and family.
If you are moving to San Francisco or just visiting, you will not have trouble finding a great theme park. While some of these parks are low key and can be visited in just a few hours, others require an entire day. Be sure to research all the parks you are interested in, their admission prices and what they have to offer for all ages before making plans to visit.