San Francisco Amusement Parks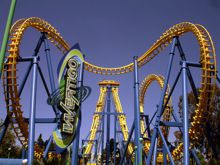 There are many great museums and cultural events in the city of San Francisco, however, to go to an amusement park you may have to go a bit out of the city. On the outskirts of San Francisco, in Santa Clara, you will find California's Great America. This thrilling park has plenty of water rides, roller coasters and a 13-acre water park. California's Great America has a one hundred acre theme park open March through November and is certainly a great way to spend the day with children.
Gilroy Gardens is another great theme park located just outside of San Francisco and is California's only horticultural theme park. This unique park serves as a learning environment for children and adults alike and is home to the world famous Circus Trees. Gilroy Gardens has twenty-one rides and six stunning gardens. You will also find boats visits with Santa, skating under the stars and many holiday themed rides available.
A great park located in the San Francisco Bay area is Six Flags Discovery Kingdom, where you can find exciting rides like Kong, Medusa and the famous Boomerang Coast to Coaster. Rides like these will get your heart pumping and leave you with a chill. If milder rides are more your type, they also have the Congo Queen, Daffy's Deep Sea Diver and Frog Hopper.
If you like animals, the Discovery Kingdom also has great exhibits like the touch and feed area, Bengal tigers and dolphins. This San Francisco based park has something for everyone to enjoy from thrill rides on a giant roller coaster to the tranquility of a zoo. During the year the park also offers certain events such as Leadership day, Safari Day and Health and Safety Day. You can also find good restaurants, shops and relaxing places to sit and enjoy the wildlife during your visit.
If you are moving to San Francisco or just visiting, you won't have trouble finding a great theme park. While some of these parks are low key and can be visited in just a few hours, others require an entire day. Be sure to research all the parks you are interested in, their admission prices and what they have to offer for all ages before making plans to visit.