What to do in New York
If you have been planning on taking a trip or moving to New York, the thought may cross your mind about what you can do there. New York is a place that you will find many fun and exciting activities and sights.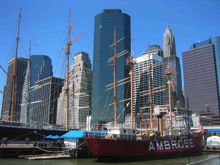 There are many different activities and sights for you to choose from in New York, depending of course on what type of things you are interested in doing. If this trip is with your family, you may want to go to museums, shows and do other things that the entire family can participate in and enjoy.
You can find entertainment of all sorts such as sightseeing, shopping, theatre and many other forms of entertainment. When visiting or moving to New York many people enjoy exploring the South Street Seaport where they can enjoy the ships, old docks and ports. You will also many street vendors and interesting performers such as magicians, jugglers, actors, musicians and comedians.
If you enjoy the water you can rent a sailboat and sail around Manhattan Island aboard which is a great opportunity to see the city from another angle. You will find things to do all around the port, like visiting various shops and enjoying restaurants that offer delicious seafood. If you prefer walking around and exploring while in New York there are other things that may interest you such as going to nightclubs, coffee shops, lounges and bars.
The month of November offers a great comedy festival in New York that attracts many people. The comedy festival draws in the world's best comedians and there is something for everyone there. This will be something you will not want to miss if you are visiting New York during November.
It certainly isn't challenging to find fun things to do in New York. Just about everywhere you go you can find interesting things at all hours of the day. Many businesses offer a wide variety of things you will not know what to look at first. You can find fun around every turn in New York with it being one of the greatest cities to visit in the world.

Spas In New York
Horseback Trails In New York
Golf In New York