Where to Find Horseback Riding When Moving to New York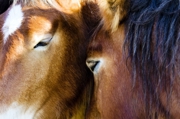 If you are moving to New York and love horseback riding, you will probably be worried of not finding a place where you can enjoy this favorite sport. But despite being a busy metropolis, the Big Apple has several horseback riding arenas, stables and parks for you to visit. Some of them offer rental horses while others offer boarding if you have your own horse.
Even Central Park in the posh city welcomes horseback riders. A trail was once dedicated to horseback riding only and it was only in the recent years that it has been opened to the public for jogging or walking. But while Central Park allows horseback riding, the dilemma will be to find a horse to ride on or a stable for your horse to stay in if you own one.
A great place to start looking for stables is in Brooklyn. Two establishments are famous here, the Kensington Stables and the Jamaica Bay Riding Academy. Kensington Stables is very accessible and offers affordable per hour rates. They have a complete list of services offered, from guided trails, pony rides for children and even horseback riding lessons. The trail on which riders will be following leads to Brooklyn's famous Prospect Park. Every spring or fall, Kensington hosts in-house shows which will be great for children to participate in and win trophies from.
On the other hand, Jamaica Bay Riding Academy offers a different and more exciting riding trail on a beach in Brooklyn. Although primarily a horseback riding school, this facility offers boarding for horses, trail rides, camping and various equestrian activities. They even offer a Seaside Therapeutic Riding Program for both children and adults with disabilities or special needs.
Staten Island is also a good place to consider when looking for horseback riding facilities. The Rich Farm on Sharrotts Road offers various lessons from beginner to pro levels and from show to jumper sessions. Their instructors are among the best and they have complete training facilities. Trails are also great, there is lush green foliage and more importantly, is away from the hustle and bustle of city life. They also have horses for sale as well as boarding facilities for your horse if you happen to own one.
The Seguine Equestrian Center which is also on Staten Island offers instructions on English show riding. All levels of riders are accepted here, whether beginner or pro. The trail featured at this facility leads to Lemon Creek Park and is a combination of land and water terrain. Fees that riders can choose from are per hour, per half hour or a one hour group fee.
It can be difficult to find horseback riding facilities whenever you move to another city or county. A busy city such as New York is not exactly the best place to look for stables and it is a better idea to look in places such as Brooklyn, Staten Island, Queens and even in Westchester County. It will take a few minutes of driving to reach a good facility but the satisfaction of riding through a tranquil trail really pays.