Moving with Your Kids to New York City - Part 1
Moving to a big city such as New York is an exciting move. Whether you relocate for business purposes or just because you want to live in this fast living city, you still have to carefully calculate your steps and be ready for a change.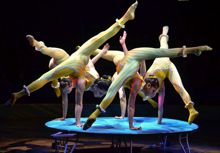 This fact is even more important if you move to New York City with kids. You will have to consider all the pros and cons in order to make a decision that will be right for your kids and yourself as well.
The Advantages of Moving to New York City with Kids
There are many good reasons to want to move to the big apple. For start, New York City is an amazing vibrant city that offers some of the world's greatest attractions such as the empire state building, the Guggenheim Museum, and more.
This is a multi-cultural environment that offers kids the chance to meet many people from all over the world and get familiar with the different cultures and experience the multi-ethnic vibe of a large metropolitan.
The multi-cultural mix is also a great way to get to know the different kinds of food, music, art, languages, etc. This will help your child's development as he is exposed to different smells and tastes and learns to tolerate different people.
Culture is a great advantage in New York City; the city offers numerous museums, music shows, theater, plays, sports, opera and more. Exposing a kid to this environment can help a lot with his or her development and contribute a lot to his or her knowledge.
NYC Attractions
New York City provides many attractions for kids. Here are some suggestions:
New York City Aquarium
As the only aquarium in New York City and part of the largest network of metropolitan wildlife parks in the country, the New York Aquarium holds a special place in the mission of the Wildlife Conservation Society - To save wildlife and wild places around the globe.
Big Apple Circus
The Big Apple Circus' all-new season is a one-word recipe for fun and electrifying excitement, a festival of family fun!
Laser Park
The largest state of the art Laser tag arena in New York City, the exciting competition of Battletech, the ultimate virtual reality game, and the latest in video redemption prize games.
Recommended Reading
Moving with Your Kids to New York City - Part 2
Moving From California To New York With Kids
How To Hire Reliable Movers NYC To LA