Should I Involve The Children With The Move?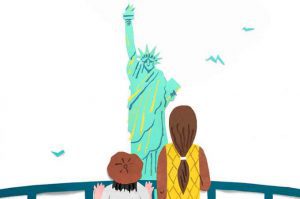 Yes. Children need to be involved, especially if this is going to be a big transition in their lives. They may require some time to adjust to the change. As soon as the decision has been made to move, let the kids know, in an age appropriate way. Involve them as much as you can, and as much as they want to be involved.
Some children will be very excited to help plan and prepare for the move. Others might not be as enthusiastic, it's important not to force them to participate. Think of ways in which they might like to get involved. For example, doing some online research to find out where they can continue with some of their favorite interests, or checking out images and specs of homes while you look for a new place to live. Millions of Americans move annually, and with every move come different emotions. For some, sadness, loss, fear, apprehension could be the primary feelings, for others, excitement, or relief. For a child, these emotions can be harder to process, especially if they really have no choice in the moving decision. Parents are able to prepare them in advance, so that the move will be easier on both the parent, and the kids.
Preparations
Talk with your kids –
When you're discussing the upcoming move, remain positive. As parents, children, of any age, look to you for reassurance and security. Let them know that although things will be different, a new home, new friends, and a new school, the meaningful things will remain the same. One way it can be viewed is that they will gain more, more friends, more experiences.
Timeline
Creating a moving timeline will help you see what needs to be done in the coming weeks or months leading up to your move. It will help you stay organized and remain calm, which is good for the children. Having a visual to-do-list can be very beneficial to successful planning. Ideally, for a long distance move, you will have between 8 – 12 weeks planning time. This however might not be the case, and you will need to move at very short notice. Whatever your time frame, your moving timeline will be tailored to the needs of you and your family, and will incorporate all the tasks that need to be accomplished prior to moving day. Here is a Moving Checklist that can be downloaded or printed and can be used as a guideline for creating your own timeline.
Essentials
Depending on the ages of the children, having some essentials accessible is a good idea, especially for the younger children. Pack according to the amount of time you will be in transit, and your individual children's needs. Ensure you have some basic essentials for the first few days in your new home. 
How can I help the children transition?
In the buildup to the move, try to keep your children's schedules and routines as normal as possible. Answer any questions they might have and include them in the planning process. For the younger child there are many books that can assist them with understanding the upcoming change. These include:
We're Moving by Heather Maisner
The Berenstain Bears Moving Day by Stan & Jan Berenstain
There are also a few books for older children, 6 and above.
Maybe Yes, Maybe No, Maybe Maybe by Susan Patron
Where I Live by Eileen Spinelli
Once you have arrived at your new home, and the essentials are in place for cooking, sleeping, etc. prioritize the children's bedrooms being the first to be unpacked. This will allow them to be reunited with many of their toys and belongings, making it feel more like home. For older children, decorating and arranging the room could be a good way for them to feel like this is their space in the new city.
What's there to do in New York with Children?
New York is one of the major cities in the world. There is so much to offer for people of all ages. For children who are beginning to explore, and those who already have their own interests, New York can offer a very wide spectrum of activities and opportunities. And according to many youngsters who have already relocated to New York, there are a lot of parks! There is so much to learn and see in New York City!
Recommended reading
Moving with Children
Moving with Your Kids to New York City