Moving with Your Kids to New York City - Part 2
While the first part of this article covered the attractions and advantages associated with moving with kids to New York City, this article covers the disadvantages that must be considered in this situation.
Environmental Conditions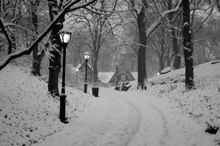 New York City is very crowded, dirty and loud. The air pollution may be dangerous, especially for kids who grew up in cleaner environmental conditions. If your kids suffer from Asthma or any other lung conditions, you may want to reconsider your decision of moving to New York City.
Sanitation services in New York City are generally Ok. However, when the sanitation goes on strike, the city becomes even dirtier, and odors can become very mind troubling.
Education
The education system in New York City is generally good. The city has some of the best public schools. The problem is commuting. To go to a good school your kid may have to commute long distances every day and, if your kid does not get in, you may have to look at private schools which are very expensive. Another aspect that may become a serious disadvantage of the New York City education system is the competition that may put a lot of pressure on your kid.
Expenses
New York City is known to be one of the most expensive cities in the United States. Transportation, food, housing, these are all expensive expenses, compared to many other states and cities in the country. Moving to New York City with kids may even make it more expensive as you have to sponsor your kids after school activities, toys, etc.
Weather
The weather in New York City can become another disadvantage. This fact is especially true for those who move to New York City from sunny California. During winter, the temperatures may drop below 20 and snow covers the city, sometimes preventing people from leaving their homes for three days.
In the summer, humidity levels raise making it very sweaty. Again, if you are moving from California, you must be used to the hot yet dry weather. Get used to sweating much more.