Green Packing - Getting A Head Start - Part 1
If you have considered doing any long distance moving and are trying to find ways to reduce the impact of your move on the environment, you can start with one of the most common themes in moving: packing.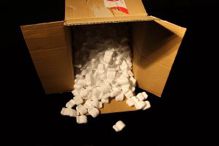 Whether you choose to do your own packing or hire your long distance movers to pack for you, there are a few things you should consider before getting started, and certainly before you purchase any packing materials.
Leave Plenty of Time
One of the most important things you can do before moving long distance is to leave yourself plenty of time to pack. Allowing yourself this time will help you in many ways. First, it will relieve some of that last minute pressure and stress that tend to build up if you are still packing on or just before the day of the move.
Leaving plenty of time also has benefits if you want your long distance move to be more green. About two months prior to moving long distance is a good time to start organizing and sorting all of your belongings. This should allow enough time to find other homes for the items you no longer want and prevent them from going to the dumpster.
During this sorting process is when you should decide what you will pack and send with your long distance movers and what you want to get rid of. It might also be a good idea to create a "not sure" pile of items that you cannot decide what to do with just yet.
Throughout this two month sorting process you should also consider trying to use up some or all of the food in the fridge and pantry before moving long distance. Keep in mind that you won't be able to move perishables, and it is more efficient to avoid moving canned goods as well.
After you have sorted through all of your personal belongings and food items, now it is time to get rid of the items you no longer wish to keep. For great ideas on how to find homes for your stuff, read the second part of this article.
Recommended Reading
Green Packing - Getting A Head Start - Part 2