Green Packing - The Three R's of Packing
You have probably heard the phrase reduce, reuse, and recycle a few times in your life. But have you considered how this phrase relates to your long distance move, and even more specifically packing?
There are many great ways that one can reduce the environmental impact when they are moving long distance, but the easiest place to start is with the Three R's.
Reduce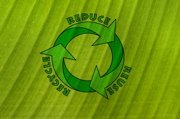 When you are planning your packing for your move, the first thing you should consider is how many packing materials you will need so that your belongings are sent safely with your long distance movers. Boxes are the number one packing material used, and you can help the environment by reducing the amount that you buy brand new.
To reduce the amount of packing materials you will use for long distance moving, you should ask friends, family, and commercial businesses if they have any leftover boxes that you can use to pack.
Another great way to reduce the amount of materials you use while moving long distance is to use utilize some of your softer belongings for padding. Instead of buying bubble wrap and foam peanuts, wrap your valuables in t-shirts, pillows, and blankets.
Reuse
After you have completed your long distance move and you are all unpacked, you have a few options of what you can do with your used packing materials. It is always best to try to expand the lifespan of a product, as it will reduce the amount of new products that are produced to replace it.
If you have storage available, save your packing materials so you can use them again in a future move. If you do not have space or do not want these materials hanging around for so long, you can give them to a friend or family member who may need them for their long distance move.
Recycle
If you must buy new packing materials, it is best to buy recycled materials for your long distance move. Some long distance movers actually provide recycled materials such as boxes, wrapping paper, and gray foam peanuts. After your move is complete, ask your local transfer station or recycling center how you can properly dispose of your materials.