Things to Get Rid Of When Moving From New York to San Francisco
Moving from New York to San Francisco is a great opportunity to go through your belongings, and get rid of any of those items that are no longer essential to your new life in San Francisco. Taking the time to go through your items before moving will have many benefits that include: saving money, time, and the added benefits to your health when dealing with less stuff once you arrive at your new home in San Francisco.
How to determine what to get rid of
Before starting the process of getting rid of personal belongings and items in your home, ask yourself some questions to help determine whether an item should make the move from New York to San Francisco.
When was the last time the item was used? If it has been longer than a year, experts suggest you can probably move without it.
How do you feel about the item? If it's something that you're very attached to, such as a piece of clothing, artwork, etc. ask yourself if its time to get rid of it. Often, we hold on to things that don't fit, or don't suit the space. Alternatively, with the upcoming move from NYC to SF, maybe something that hasn't worked in your current New York home, will be perfect for your new home in San Francisco.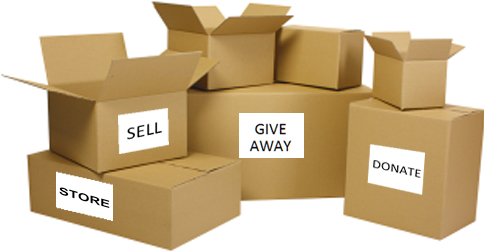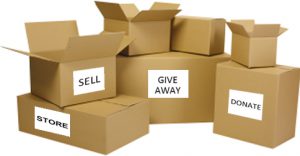 Sentimental value – If you have items that hold sentimental value, getting rid of them might not be an option. However, in some situations, it might be time to find these items a new home.
Common items to consider getting rid of when moving from New York to San Francisco
It doesn't take long for our homes to fill up with "stuff" and if you have lived in your New York home for a long time, chances are that over the years, you have accumulated a lot of the items listed below. Now, when making the move to San Francisco, the time has come to consider getting rid of these unused items.
Media – As technology continues to evolve, the need for a media library is fast becoming unnecessary to many. If you have a collection of DVD's, CD's, or video games, this could be the perfect time to sell or donate what you have.
Electronics –Old or broken electronics often sit unused.
Clothes and shoes – As times change, so does fashion. Now might be the time to reassess your wardrobe.
Children's toys – Toys, like many other household items tend to pile up quickly. Moving is a great opportunity to leave behind any toys that are not age relevant anymore.
Old furniture and appliances – Is it worth moving something that is broken 3,000 miles? Furniture can be heavy, and could add to your moving costs if you'll be hiring movers from NYC to San Francisco to transport your belongings.
Kitchenware – While sorting through the kitchen cupboards, keep only what you use. Save yourself space.
Books – This can be a hard one for many! Books are heavy and take up space. If there is a lot of love for books, than naturally, they will make the move from New York to San Francisco where they will continue to be enjoyed.
Miscellaneous items – If you have a hobby or a pet, a lot of make up, linens etc. then now is the time to sort through these items and get rid of anything that is not being used.
What should you do with all the items that are not being moved?
Once you have determined which items will not be making the move from New York to San Francisco, the next decision is which items will be donated, discarded, sold, or given away. There are many organizations across the United States where you can donate unused or unwanted items. These include large donation drop-offs such as: The Salvation Army and Goodwill. You can also donate to a specific shelter or charity of your choice. If you have things to sell, there are many online platforms such as: Craigslist, ebay, and also social media selling groups. Specifically for clothing, you can sell online with Poshmark. Alternatively, you can take your clothing to be sold in upscale 2nd hand vintage stores such as Buffalo Exchange and Crossroads, both in San Francisco.
If you have things that cannot be sold or donated, for example: newspapers, old photos, magazines, fabric, batteries, electronics, or unusable clothing, instead of throwing them in the trash, chances are you can find a recycling program for any of these items.
Recommended Reading
Moving To San Francisco
6-8 Weeks Before Your Move
Reducing Your Items For A Long Distance Move