Green Packing - Getting A Head Start - Part 2
In the first part of this two-part article, we discussed how leaving plenty of time to pack before your long distance movers arrive allows you time to sort through the items that you no longer want. In part two we will help you get rid of them.
Yard Sale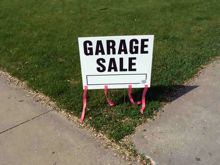 After you have accumulated a pile of items that you will not be shipping with your long distance movers, now it is time to decide how you can remove these items from your possession without using the dumpster.

The first way to get rid of these items before your long distance move is to have a yard sale / garage sale. Setup a few tables and layout your items in an organized order. You can create price signs to place next to them or to make it easier you can have a "bargain" table where people can make an offer.
Online Selling
If you don't like the idea of sitting outside all day waiting for people to browse your selection, consider using online methods such as CraigsList or eBay. These sites require a small fee, however, if you have some valuable items, this can help pay for your long distance movers.
Craigslist allows you to post items for sale in or close to your city. This is great because if the buyer is from your area, they can pick it up from your home, which will save you money on moving it long distances. It also reduces the impact from the truck it would be shipped in.
Party Time
If you would rather not deal with yard sales or websites, you can discard of your items in a much more entertaining way. Place your items on display throughout your house and invite a bunch of friends, family, and co-workers to your Free-for-all pre long distance moving party. Give them away for free, pick names out of a hat, or any other way you can think of.
Donate
There are plenty of great places out there where you can donate your items to charity instead of moving them long distance. If there are not shelters in your area take a look at Salvation Army, or Goodwill who also have moving trucks and crew that can assist you.
Go Curbside
As a last resort before your long distance move, try placing your unwanted items on the curb with a FREE sign attached. This usually works best with furniture items and exercise equipment.
Recommended Reading
Green Packing - Getting A Head Start - Part 1