Reasons To Move To LA From NYC
Tips For Moving from New York To California
California is the third largest state when it comes to land mass, with the highest population. And the reason for this is not hard to understand. With its incredible year round climate, abundant job opportunities, and extensive local and regional cultures to explore, California has become a desirable destination for many. Here are just a few tips designed to make your move a successful one. 1. Take the opportunity to downsize. Remember that the weather in California is much different than what you are use dot experiencing in New York, so the parka and hood combination and the turtleneck sweaters may be something you can safely ditch. Go through your belongings and ask yourself what you need, what you do not, and either sell, throw out, or donate everything in the latter category. By minimizing your moving footprint, you will save both money, time, and the corresponding headaches. 2. Consider your new cost of living. Many people think living in California is out of the question because of the cost. Truth be told, California is actually a little better in this area than New York City. True, there are areas of LA and Silicon Valley that cater almost exclusively to the ultra rich, but overall, the cost of living in California is nowhere near what you have experienced in NY. A nice two bedroom apartment in California can be had for the same rental rate as a small flat in NYC, and clothes, utilities, and groceries are all similarly less expensive than their NYC counterparts. 3. Find an experienced and knowledgeable long distance moving company. It is not easy moving al most 4000 miles, and done wrong, your moving project could become one nightmare after another. CA NY Express Movers exist for the sole purpose of folks moving to California from New York, and from New York to California. That is it. We are just that specialized. That means we know how to do this, the best routes to take, the best ways to trim expenses (and save you money!), as well as handling all those last minute problems that can and so often do crop up during the planning and execution of a long cross country move.
Weather
ask anyone why he or she are moving, or moved to Los Angeles from New York City, and guaranteed, his or her first answer will be because of the weather. It is common knowledge that the temperatures in LA throughout the year are mild to hot, with a rainy season February thru April. If you like the weather of the Mediterranean, you will appreciate the climate of LA.
Space
- LA has plenty of space compared with NYC. LA is a "sprawling" city. To some and as the definition states, it is spread out in an unnatural manner. However, this vast amount of sprawling LA space has appeal to many New Yorkers needing to exhale from the denseness of NYC.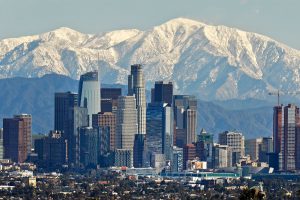 Nature
From every direction, the urban jungle of LA is surrounded by nature. Mountain views are visible from almost all major freeway routes. And it's not only the beaches and mountains of Los Angeles that make this city so attractive to nature lovers. It's proximity to some of California's finest nature is so easily accessible from all of LA. Within a few hours you can be in some incredible spots, such as: Ojai, Mammoth, Big Sur, and Joshua Tree, to name a few. For anyone who enjoys being with nature, :A has it all.
Clean living
- Many New Yorkers are very serious about living a healthy lifestyle, however, healthy living in LA is such the norm, that it's hard to not want to jump on the clean living bandwagon. Angelenos believe that clean living is more than just exercising and healthy eating. When you're moving cross country from NYC to LA you'll notice that many people who consciously live a clean lifestyle, will also incorporate sustainable living in and around their home. With luck, this can often mean peaceful neighbors!
Family
- LA is great if you have a young family. The weather permits year round outdoors activity. There are playgrounds everywhere and the beaches and other outdoor family friendly excursions are easily accessible. There are also a lot of classes and activities to fulfill any child's interest.
Moving With Your Kids to Los Angeles
will be one of the best things you do, as NY is a playground and creative center predominantly for adults.
How Much Does It Cost to Move from New York to California?
It is no secret that the two most expensive states in the lower 48 are New York and California, so when you are scheduling and planning for your move from one coast to the other, it becomes beneficial to find ways to save as much money as possible in the process. Of course, prices may vary depending on the size of your move, the time of year you are choosing to move, and whether or not you are doing everything yourself or hiring a company like CA NY Express movers. Your move can cost as little as $1,800 to $3,500 for a small one bedroom or studio apartment, all the way to around $12,000 or $13,000 for a four bedroom home. The average cost for moving from New York to California is around the $3,000 to $6,000 range. You may also have extraneous costs such as gasoline, food, and lodging for a long distance move. Another unusual factor in determining cost is the loss of inbound moving from New York to California, which has decreased with a 38% outmigration over the last several years. Reduced inbound popularity and appeal usually translates into a less expensive moving project.
Is Los Angeles really more relaxed than New York City?
Yes! New York is a very fast paced city, and the pressure can often be felt by some of the inhabitants. The weather can also have an impact on how we feel, and in New York City the weather can at times be pretty harsh. In LA, one never really needs to worry about the weather, and the city has its own time zone, making it a very laid back city, except of course for the traffic, which can at times be extremely frustrating, even for laid back Angelenos. Although LA traffic has a bad reputation, it could be used as an opportunity to chill out and watch the sunset, for example, from your car. Simple things just seem to be a lot easier in LA!
When is the best time to move to from New York to California, Los Angeles?
Because the weather in Los Angeles is pleasant most of the year, this might not be an essential factor to consider when deciding the
best time of year to move
. However, its good to bear in mind that July, August and September are the hottest months in LA. Families tend to move June-August as children are out of school for summer vacation. If you will be relocating and looking for work, autumn/fall is a good time to move cross country as more opportunities become available within the job market. Another thing to consider are rental prices, fall and winter is the best time to find good prices on homes, as rents tend to be lower during the colder winter months.
Moving from New York to San Francisco
Moving to San Francisco is an attractive option for folks looking to relocate and work in and around Silicon Valley, which has a reputation for recruiting the brightest and best in their respective fields from across the country to meet the demands of a high tech global demand. The Bay area is also known for its incredible diversity, culture, wine country, and arts scene, which makes it an appealing and attractive place to relocate, raise a family, pursue a career, or both! San Francisco and the bay area also offers some of the most agreeable weather to be found anywhere in the country, with some of the coolest daily temps to be found during the summer months of June, July, and August, extraordinarily little in the way of humidity, and a high of 80 degrees or more which is seen only on the average of about 21 days each year! During the cooler months, temps may drop as low as 50 degrees, but not much more, nor very often. And San Fran averages about 70 rainy days annually.
Moving from New York to Los Angeles
As the entertainment capital of the world, the LA area is a hotbed of talent in movies, TV, and music, and as such a desirable destination for anyone looking to work in these fields. But even if you are not looking to be the next Big Thing, LA offers a robust and thriving job market, and its location relative to the Pacific Ocean make it the ultimate destination for many folks from all walks of life. LA offers itself as a focal point for all kinds of terrain and locales to be explored, and its highways system connects you rapidly to nearby
Santa Monica
, mountains, forests, and even deserts, making those occasional weekend getaways easy and convenient. The weather in LA is usually sunny, with only about 50 cloudy days in a given year, and the Southern California "Mediterranean Climate" has proven itself to be a welcome relief for East Coast and Midwest residents who are tired of extreme winters and summers, and it makes moving to California from NY an attractive and appealing option. A
cross country move
from New York City to LA or San Fran California can be a daunting task, and one that should be carefully considered before undertaking. With a little judicious planning, and of course hiring the professionals at California New York Express Movers, your long distance move can be an exciting and rewarding experience. Contact us today to get your moving project started, and get ready to enjoy your new life on the West Coast!
Recommended Reading
Moving to Los Angeles
Moving Long Distance to Los Angeles