Moving with Your Kids to Los Angeles - Part 1
Moving to California's largest metropolitan area is an exciting move. Your moving reasons may vary. Many people move to Los Angeles, following a dream of becoming an actor or actress, many move because of the city's numerous employment options, and many just move for the sunny weather.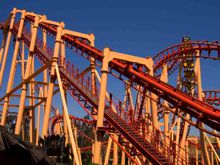 No matter what your reasons may be, moving to Los Angeles with children requires some extra thought. Depending on your origin, a move to Los Angeles with kids may be easy and simple and may be a complex task.
While Los Angeles presents many great advantages for kids, it also present some downsides that have to be seriously considered.
The Advantages of Moving to Los Angeles with Kids
There are many good reasons to want to move to the city of angels. The city's vast cultural background and its many kids-elated attractions are just a few.
Similar to New York City, for example, Los Angeles is a multi-cultural environment that offers kids many chances to meet different people from all over the world and get familiar with the different cultures and experience the multi-ethnic vibe of a large metropolitan.
This unique mix is also a great way to get to know the different kinds of food, music, art, languages, etc. This will help your child's development as he is exposed to different smells and tastes and learns to tolerate different people.
The Culture mix is one of the most special advantages offered by the city of Los Angeles. Due its immigrants nature the city offers a great outlook on many of Latin America's cultural nature.
In addition, Hollywood is right here and it is not rare to bump into many of its stars in a local restaurant or just walking on Sunset Boulevard. Living in Los Angeles may also give you and your kids the opportunity to take a close look on the red carpet in the city's glamorous events.
Los Angeles Attractions for Kids
Los Angeles provides many attractions for kids. Here are some suggestions:
The Hollywood Museum
The Hollywood Museum is the ultimate destination for movie fans. The museum's permanent collection captures the miracles of motion picture magic, past and present, on four floors and in 5,000 eye-popping displays.
Aquarium of the Pacific
The Aquarium of the Pacific is a celebration of the world's largest and most diverse body of water. Through dozens of breathtaking exhibits, you'll meet more than 12,000 of this ocean's inhabitants, including some 550 different species.
Six Flags Magic Mountain
Six Flags Magic Mountain features the world's most thrilling rides plus exciting shows and family adventures. Next door, Hurricane Harbor Water Park is open May-Sept. The park now has more roller coasters than any other park in the world.
Reccomended Readingbr /> Moving with Your Kids to Los Angeles - Part 2
Packing Education