Tips For a Successful Move From Los Angeles to New York
Moving from Los Angeles to New York is quite a contrast. With some simple tips, having a successful move from
LA to NYC
will prepare you for a smooth transition into this energetic city.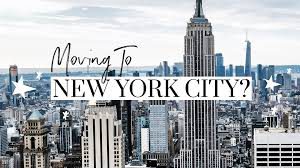 Los Angeles and New York are not only on opposite sides of the country but they're also immensely different. Both cultural hubs within the United States, Los Angeles offers year round sunshine, coastlines of magnificent beaches, and a very large freeway system, which is continuously expanding, due to the "prerequisite" of having to have a car. New York City on the other hand, offers all four seasons of weather, art and theatre, all in a vibrant city that can be discovered with the simple use of walking or taking the subway.
Tips for your move to New York
1. The cost of living in New York is one of the highest in the country, next to San Francisco. Rents are also one of the highest in the country and will be your biggest expense. Determining your priorities and spending some time getting to know the different neighborhoods will help to decide where you want to live, and budget for your move. 2. New York City is just over half the size of Los Angeles. It's a very easy grid system, so you'll get to know your way around pretty quickly and feel the energy in this astounding city. 3.
Using New York's finest public transport
, taxis, or walking, as many New Yorkers do is the easiest way to get around the city. Once you understand the subway system, you'll be able to navigate the city very quickly. Study the subway and city map, you're going to be doing a lot more walking! 4. New York has a lot of cultural attractions, for example: MoMA (Museum of Modern Art) The Metropolitan Museum of Art, New York Public Library, Statue of Liberty, and The Empire State Building. Los Angeles is rapidly following as a cultural city; however, Los Angeles is more of an outside lifestyle, with the vast amounts of nature that it offers. 5. Winters in New York (and the east coast in general) can be extremely cold. Moving from Los Angeles, it might be quite a shock. 6. New York has its own lingo,
learn to use it
! 7. New York is fast paced, loud, and there is a lot happening throughout the city 24 hours a day. It truly is the city that never sleeps. But if you need a little peace, there are some hidden gems where you can escape and soak up all that New York has to give. It's also a good idea to get out of the city periodically. There are some great spots in upstate New York.
Is it true that you don't need a car in New York City?
Having a car in New York City is not a necessity. The public transportation in New York is one of the best in the country, if not the best. It's not common for New Yorkers in the big apple and the surrounding boroughs to own or use a car, particularly due to parking being an inconvenience, which can get very costly if you need to rent a garage space, parking fines, and the high cost of fuel in New York, which is the highest in the country. Living outside of the five boroughs you will benefit more from owning a car and if you travel a lot outside of the city, it is a lot easier to get around when you have a car.
How far in advance should I book my move?
Moving from LA to NY from LA is a very common route
. It is best to book your move as soon as you can, especially if you're going to be moving in the summer when it's the busiest time for the
moving industry
. It might take some time to fall in love with New York, but once you do, no matter how long it takes, and with the help of these simple tips, you'll have a deep appreciation for this city.
Recommended Reading
New York Apartment Pricing
Moving With Your Kids To New York City
Moving Long Distance To New York