Where to Donate Your Items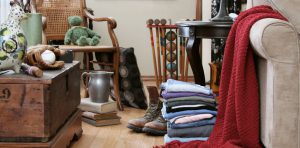 Moving to NYC from LA is a great opportunity to go through all of your belongings. As you sort through and clear out your items, you'll get a sense of what is necessary and what has sentimental value. Based on these decisions, you can select what you want to take with you when you move to New York. All the rest of your stuff can be sold, given away or donated! For everything to be donated, there is a charity, or organization for all the things you're leaving behind. Having a list, or categories of items you plan to donate, can help you decide where to donate your items and how to schedule the drop-offs.
Apartment living in New York City is very common, and sizes of the apartments are significantly smaller than the apartments in Los Angeles. If you need to downsize your furniture due to the size of your new apartment, or you just don't want to take certain pieces, furniture, along with clothing, and household items, can all be donated.
Where can I donate furniture, clothing, and household items?
Thrift stores – There are a lot of different thrift stores around Los Angeles. Two of the largest, and most common are: Goodwill and the Salvation Army. You can pretty much guarantee that your furniture pieces will be accepted at both these thrift stores. However, it's a good idea to contact them to confirm if they can accept your furniture. Both Goodwill and the Salvation Army provide donation pick up services. If needed, contact your local branch to schedule a pick up.
Shelters – A lot of communities in Los Angeles have shelters that assist people in need. Contact your local shelters to see if they are in need of any donations. They usually accept household items including furniture, clothing and bedding.
Can I donate my electronics and computers?
When people start sorting through their garage and storage spaces, a lot of old electronics and computers are discovered. The question is often, "what should be done with them?" With new electronics coming out so frequently, many "old" electronics and computes hold little value. If you choose to donate any of your old electronics and computers, make sure to erase personal information from the hard drives. Your electronics can be donated at:
Thrift stores – Before giving any electronics to the thrift store, check to see they are working. If you have all the parts, keep them together.
Shelters – As shelters help people move forward with their lives, working computers and electronics can play a large part in someone's life. If your items are not working, its still worth contacting the non-profit agencies, as some of them might take what you have and repair them to send to other countries where these electronics are really needed.
Schools – Los Angeles has a lot of schools and study centers where you can donate working computers. Contact local schools and study centers for more information on donations.
What should I do with books and magazines?
Both New York and Los Angeles are hubs for book lovers. If you're going to be downsizing your book collection, there are a few places that will accept your books. For any specialty books or rare editions, contact independent bookstores or collectors.
Libraries – Public libraries accept books that are in good condition, and gently used. In Los Angeles there are many libraries where you can donate your books. If you have magazine collections, CD's or DVD's these can also be accepted if they are in their case. Some libraries might sell some of your donations; any money collected will be donated to events at the library.
Shelters – Many of the shelters have their own library where books are kept. Donating books, magazines, music and media to shelters can provide knowledge, information and inspiration.
Schools – Schools welcome good condition educational books and magazine collections. Contact schools in your area for donation guidelines.
If you need assistance with donation drop-offs, when selecting your movers Los Angeles to New York inquire if the moving company can drop off the items you have selected to donate. Relocate to New York With California New York Express
Recommended Reading
6-8 Weeks Before Your Move
Preparations For Long Distance Moving