Moving LA to NYC Packing Basics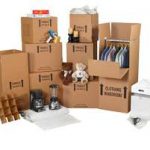 It is best to start packing at least 2-3 weeks prior to your scheduled move date, even earlier if possible and time allows. Planning how you're going to organize the packing should begin even earlier. It will of course depend on the size of your home and if you're hiring the services of professional packers, or packing yourself. Having a clear game plan of your packing process will provide guidance and keep everyone on track.
If your move from LA to NYC will be done with professional movers, it is expected that come Your Moving Day, everything will be packed and ready to be loaded.
How to get organized
1. Being organized is key to efficient packing. First you'll want to sort through your belongings and get rid of anything that is not to be packed and moved to New York City. Once you know what is being packed, you can then get your moving supplies. If you plan to have an eco friendly move, gather and source your supplies. If you will be purchasing all your supplies, ordering online is a fast way to get what you need. Here is a list of some basic packing materials.
• Boxes of different sizes
• Wardrobe boxes
• Bubble wrap
• Padding
• Packing paper
• Scissors/packing knife
• Packing tape
• Tape dispenser
• Permanent markers
• Labels
• Paper and pen
2. Having an area in your home that can become your packing station is a great way to keep the rest of the house clutter free and everything being used for the packing organized and in one area.
3. If you have wiring set ups, for example: on your sound system, or the television, that will require being reassembled once your items are delivered, it's a good idea to take photos so that you can see the exact configuration when its time to unpack these items.
4. Watch some Packing Videos
Where should I begin?
1. Before you start packing all your items into boxes and wrapping furniture, its important to pack and put aside some first day essentials for each person that is moving. These items should be kept away from all the other stuff that will be loaded onto the moving truck. If they are to be transported on the truck with the rest of your belongings, make sure they are clearly labeled.
2. Once you are ready to begin packing, build some boxes, a variety of sizes and make sure to line the bottom of each box with some wadded paper. You can also use things you already have, such as linens, or clothing. This will reduce your amount of boxes and the amount of packing supplies.
3. For a long distance move from Los Angeles to New York, wrapping each item individually is recommended, to prevent damage when positioned in the box. Depending on the items, you can use sheets of packing paper, bubble wrap, and for a more eco friendly move, clothes and linens can be used.
4. The maximum weight of any box should not exceed 50lbs. Ideally having them weigh less is best. Large boxes should be filled with light items and heavy items, such as books should be placed in small boxes, or special book boxes.
5. One way to keep organized is to pack one room at a time. Keeping all items together in the same boxes. This will also make unloading and unpacking much easier.
6. If you're going to be disassembling any pieces of furniture or media set ups, keep the hardware together in a Ziploc bag, or something similar. Make sure it is labeled clearly and placed either in the original packaging or in a box that is associated with the room.
7. Keep some basic tools on hand.
How do I keep track of my boxes?
It is best to keep each box open until packing is final. Once completed, each box should be taped closed and labeled. Using a numbering system lets you see the total number of boxes and is a good way to keep track of your belongings. Alternatively, label each box by room.
Packing Materials For Your Long Distance Move
How To Pack For A Move, Some Basics