Moving with Your Kids - On the Day of the Move - Part 1
On the day of the move it is recommended that a family will work as a team to make the move as easy and smooth as possible. As the family teams up for this long day, keep in mind that it will be very beneficial to keep your kids busy and to have the, assist you with the different task.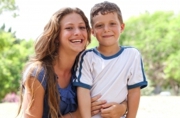 Preparing a to-do list for your kids will help them stay involved and focused on the tasks as they work through the list, marking off their completed tasks. More often than not, you will be happy to find out that kids stay focused and happy while doing their fair share of the packing and moving tasks.
Packing Up and Moving Day
If you did not hire your moving company to do the packing for you, the process of packing may become an emotional experience for younger kids, as they see their favorite objects "disappear" into boxes.
Be prepared to explain your kids that their favorite items are just being packed to be shipped and that they will see these items as soon as you arrive to your new location and unpack.
Older children, may have no problem of seeing their items packed as they, often, grasp the concept of moving and understand that the situation is just a temporary one. However, older kids may have a harder time saying goodbye to friends.
To assist your children with the farewell process, it is always a good idea to host a going-away party or a sleepover for friends.
Kids Can Assist
Sorting Stuff
Moving is a always a good chance to throw away things your kids don't want or need anymore. Discarding old items has two great advantages:
You are minimizing your items volume and by that reducing your moving costs.
You get the chance to make room for new things you might get after settling in.
Marking Stuff
Another great moving-day activity for kids is to mark their items as their. While older kids can mark their items by writing their name on the box, younger kids may need specials stickers or colors. Encourage your kids to create their own "seal" to mark their belongings.
First Night
When you pack the items to be shipped with your moving company, keep in mind that you will need to pack some items aside and take them with you for the trip to the new location and for the first few nights you will have to spend without your items.
Recommended Reading
Moving with Your Kids - On the Day of the Move - Part 2