Sorting & Organizing Tips
You have set a moving date with your long distance movers, which is getting closer and closer. Is the stress of having to sort through all your household items getting to you yet? Reduce that stress with this tried and true technique.
Just TRAF It!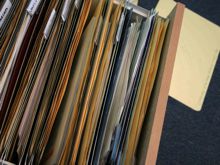 The long distance moving process is one of the few times you get a chance to come in contact with all of your belongings. This can be stressful at first, however, the process usually leaves people with a sense of relief. So how do we get through this in an organized fashion? Just TRAF it!
TRAF is a proprietary acronym developed by Stephanie Winston in her book, The Organized Executive. TRAF stands for Toss, Refer, Act, File. The basic principle of TRAFing is to take one item and ask: should I Toss it; Refer or delegate it to someone else; Act on it; or File it away for future use (or in terms of your long distance move, pack it).
Make sure that you give yourself enough time to sort and organize your items before your long distance moving date. Generally speaking, a good time to begin TRAFing is about six to eight weeks before moving long distance.
The first thing to do is to tackle one room in your home. Trying to organize everything at once is inefficient and usually overwhelming. Pick up one thing at a time and ask yourself a few questions, What is it? When did I last use it? Do I really need or want it? Do I really want to pack and send it with my long distance movers?
Once you have asked yourself those questions, it is time to figure out what to do with it, and that is where the acronym TRAF really helps. The first part, Toss, is self explanatory, but can sometimes be difficult. Just ask yourself this: What is the worst that will happen if I throw this out?
The second part, Refer, means to delegate or give it to someone else. Perhaps you have an antique you have been meaning to give to someone before your long distance move.
The third part, Act, means to take action on something that needs to be done. Let's say you are going through some papers and you find a bill, pay it!
And lastly, File, means to store it away for future use. In this case it means pack it for your long distance move.
TRAFing, by the way, is a great technique for daily work and home life and shouldn't be forgotten after your long distance movers are gone.