Moving Green 101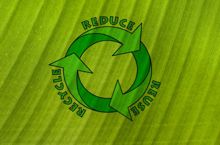 We are now entering the age of "Green." After so many decades of hearing frightening words like "Greenhouse gasses," and "Global warming," we are beginning to open our eyes on how we are impacting this planet. There is a long way to go, mind you, but now is a great time, during your long distance moving, to consider how you can make small changes that go a long way.
The Basics On Moving Green
The Moving Green section of this long distance moving guide will focus on how you can change the norms that are out there now, while setting some new trends in the age of going green.
Many people who have been through the process of moving long distance know that there aren't many other times when you have the opportunity to see how many items you own.
There are dozens of ways to make a change and move green, especially when you apply the phrase, Reduce, Reuse, Recycle. If you have already begun the packing process, then you have likely come across belongings that you no longer want, and certainly don't want to pay to have shipped with your long distance movers. It can be very easy to find yourself tossing items instead of recycling, donating, or figuring out a way to not send it to the landfill.
The best way to avoid the landfill game during your long distance move is to be more mindful of the things you purchase.
By reducing the amount of items you possess, you will have fewer things to toss or ship with your long distance movers. The next best thing is to give yourself plenty of time to complete the packing process. This will allow you to find a home for each item you wish to discard.
Keep in mind that the Salvation Army has movers and moving trucks that can accommodate the small or large items you wish to donate.
When it comes to packing materials, ask neighbors, friends, co-workers, and supermarkets if they have some extra boxes lying around that you can use. If you are forced to buy new materials, keep them for your next long distance move. Remember, Reduce, Reuse, and Recycle.
Recommended Reading
Top 5 Green Cities