Moving Green - Your New Home
You have reached your new home, your long distance movers are on their way and now you need to prepare to get unpacked and get settled in.
Pre-Cleaning
Before your long distance movers arrive, you may want to give your new home a nice pre-cleaning as this will be one of the only opportunities when furniture is not in your way.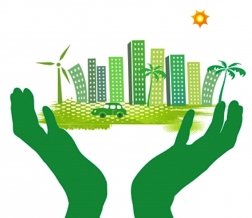 Give your new home a walkthrough to see if there has been anything left behind that you do not wish to keep. Check your closets, attic, and basement and other hidden areas of your home. After moving long distance, you may have a lot of boxes that you will want to store temporarily, so clear up these areas for holding space.
Make sure that any materials you come across in your pre-cleaning process are recycled or reused if possible. Before your long distance movers arrive is a good time to get acquainted with your local transfer station or recycling center, as you will need their services.
Before your long distance movers arrive, you should give your new home a thorough clean by dusting ledges and windowsills, mopping and vacuuming the floors, and wiping countertops. Be sure to use biodegradable and non-toxic products like Simple Green.
You could also, of course, hire a cleaning service to come to your home and make it spotless before your long distance moving company arrives.
Unpacking
Once your long distance movers have unloaded your household items off of the moving truck, now you need to unpack and sort everything. If you did a good labeling job, move the boxes to the appropriate rooms and do the unpacking from each room.
While you are unpacking, make a pile of all the materials you can recycle, such as the boxes used for moving long distances, or the packing paper used to protect your breakables.
If you have enough storage space, try to keep the long distance moving boxes in good condition by flattening them and keeping them for another use. Remember that the more you can use a product like this, the less resources will be used to create a box in its place.