How To Pack Green - Items Not to Toss
There are a few of our previous articles in which we covered ways to reduce the amount of items you send with your movers and how you can find new homes for them instead of tossing them out. In the following article we will cover items that should not be tossed out in your household dumpster.
If you have given yourself plenty of time to sort and organize your items, then you probably have a pile of stuff that you no longer want. We previously mentioned donation, yard sales, and parties, but you may still have some left over items that you are unable to get rid of before moving.
It's Recycling Time
One of the first things you can look at is if some of your items can be recycled. Common types of recyclable materials include plastics, aluminum, corrugated cardboard, glass, magazines and office paper, and metals.
Plastics will probably be most common among the items you wish to discard of. These plastics may include shampoo and bath products, child toys, detergent bottles, etc. Most recycling centers will accept plastics 1 and 2, but check with your local transfer station or recycling center to get the specific types of recyclables accepted as they may include a wider variety.
HAZMAT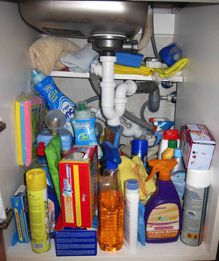 There are some items that may be recyclable and others that can be tossed out, however, you may come across some household products that should not be thrown to your dumpster. Your long distance moving company cannot transport these items for you as law prohibits it.

Some common household hazardous items that should not be thrown include alkaline, antifreeze, gasoline, motor oil, paint and paint thinner, aerosols, drain cleaner, batteries, pool chemicals, rodent spray, bleach, etc.
In order to dispose of these products properly, you will need to contact your local transfer station or collection facility to find out what the requirements are for proper disposal. Many smaller towns will hold an annual or semi-annual hazardous material day where you can drive up and a work crew will unload you car and dispose of the hazmat properly.
Larger cities will have a permanent facility to allow you to dispose of these items. It's important to remember that it is dangerous and illegal to transport hazardous materials with your movers.