Moving Your Vehicle - Part 4
In addition to the schedule and insurance issues, explained in part 3 of this article, there are few more aspect you need to understand and consider when moving a vehicle along with your household move.
Door-to-door Car Shipping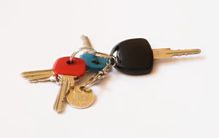 Although all of the quotes provided by car transport companies refer to a door-to-door service, you must know that a door-to-door service cannot always be provided. That is why almost every car transport agreement has an asterisk after the door-to-door service.
The reason for having the remark near the service type is the fact that not always a truck will be able to pull up to your front door. The carrier will do his best to get as close to your specified pick-up or delivery location.
There are two main reasons preventing the carrier from providing a door-to-door service:
Legal Aspects
In some cities, long trucks are prohibited, by law, from entering some or all residential areas. In New York City for example, some trucks may not enter the Manhattan area. This mainly depends on the size of the truck.If you are moving to New York, make sure to learn these local facts and laws as these limitations will help you make the truck size choice that is preferred to your area.
Street Width and Truck Access
If you move from or to a narrow street, keep in mind that a large truck may not be able to safely maneuver and park close to your residence. In these cases, too, the car carrier will park the truck as close as he can possibly and safely can.In addition, when access to your residence is restricted by low-hanging trees, speed bumps or tight turns, the driver may not be able to safely maneuver. In this case, you may be asked to meet the truck at an easier access spot such as a large parking lot nearby.
Payment Methods: Be Ready
Deposits
Most car transport companies require a deposit payment in advance. Deposits can range from 10 to 30 percent. Some companies have a flat-rate-deposit policy and in these cases the deposit is determined by the move distance and the type of car. However, some car transport companies have no deposit requirements.
Deposits can usually be paid using a credit card, check, cash, and cashier check.
Common Payment Options
Whether you paid a deposit or not, the balance remaining is always required at time of delivery. Most car transport companies will not accept a credit card payment upon delivery so be prepared to pay with cashier check or cash.
Recommended Reading
Moving Your Vehicle – Part 1
Moving Your Vehicle – Part 2
Moving Your Vehicle – Part 3