History of New York
Back in 1524, New York Bay was first discovered by Giovanni da Verrazano, an Italian-born navigator. An Englishman named Henry Hudson who was employed by the Dutch, reached New York Bay in 1609 and then sailed up the river that is now named after him. This was during the same year that Samuel de Champlain explored northern New York and then claimed for France. Only a few years later, in 1624, the first permanent Dutch settlement was established in Albany, then know as Fort Orange. The Island of
Manhattan
was purchased a year later from the Native Americans by Peter Minuit who paid them with trinkets that were worth sixty Dutch guilders. It was there that he founded the Dutch colony of New Amsterdam, however, in 1664 he had to relinquish this location to the English who then renamed it
New York City
.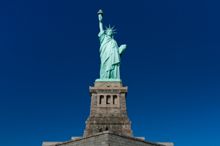 In the early days, New York had rapid commercial growth and at the same time Governor De Witt Clinton was pushing forward the construction of the Erie Canal. The Erie Canal allowed passage of boats from Buffalo to Albany and was opened in 1825 before the dawn of highways and super highways, which now connect one important city to another, and even connect states and countries. It is much easier nowadays for people to get across state borders as quickly as possible or to reach Canada via the super highway. If there is one important, center attraction to the state of New York, it is New York City. For decades it has lead the state in manufacturing, commerce and banking, foreign trade, book and magazine publishing as well as theatrical productions. The Big Apple is also home to a leading seaport and airport, John F. Kennedy International Airport which is by far one of the busiest airports in the world. You'll also find the largest stock exchange in the world, New York Stock Exchange, or NYSE situated in lower Manhattan.
New York ranks seventh in manufacturing
with nearly six hundred thousand employees in 2005, there are manufacturing hubs all along the Hudson River to Albany. The Hudson has, in a way, given New York a second seacoast.
Recommended reading
Storage Solutions - Moving From Los Angeles To New York
The Economy Of New York
New York Demographics