New York Demographics
The United States Census Bureau conducted surveys in 2006 and concluded that New York is the third largest state by population following behind the much larger states of California and Texas.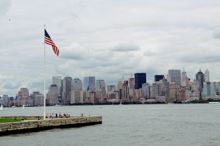 The Empire State had an estimated population of nineteen million three thousand six one hundred eighty three, which is actually a decrease of nine thousand five hundred thirty eight from the year before. It did experience, however, and increase of over three hundred thousand since 2000.
The population estimate included a natural increase of six hundred thousand people, which is one point five million births minus almost one hundred thousand deaths.
According to the census, New York is a slow growing state with a high immigration rate. In fact, when you look at the immigration statistics, New York is a leading recipient of migrants from all around the world.
Even though there was a decrease in population, in January of 2007, New York's population count started to rise again, giving it some change from 2006. This statistic could mean that the population will continue to increase throughout 2007, centering around Deerpark in Orange County where the center of population is located in New York.
An estimate from 2004 claimed that twenty percent of the population was foreign born. New York City, in fact, has the largest number of foreign-born residents in the entire nation, with the percentages for the foreign-born being higher than those of Los Angeles or Miami.
One of the most famous cities on the planet, New York City has been known as a major hub of immigration in the later twentieth century.
The leading ancestry groups in the state of New York are African Americans at fifteen percent, Italian at fourteen percent, Irish at twelve percent, German at eleven percent and Polish at five percent. The other one percent of the population is multiracial.
If you haven't been to New York City before, you'll find that it is one of the world's most ethnically diverse cities in terms of the variety of cultures and nationalities living so close to one another.
The city of Brooklyn is one of the country's twenty counties where every racial group comprises one fifth of the city population.
Albany, Buffalo, Rochester and Syracuse were equally settled by immigrants of every nationality within the last four hundred years.