New York Convention Centers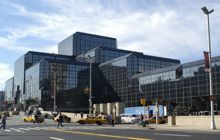 If you are moving to New York or just visiting for a conference, you will find that it has plenty of convention centers to choose from, but the Jacob Javits Center is perhaps the most well established.
Located on the west side of Manhattan, the Javits Center, or Jacob K. Javits Convention Center was designed by architects I. M. Pei and his many partners. This innovative building was created in 1986 and named after New York Senator Jacob K. Javits.
The space available for an exhibit is and enormous 675,000 square feet. In mid-October 2006, construction began on an expansion project costing $1.7 billion dollars and will expand the center's size by forty-five percent. This construction is scheduled to be complete by 2010, will be one of the largest convention centers in the United States, and will even include a hotel. The Jacob Javits Center currently holds conventions for many different groups like the tech industry, automotive industry and fashion industry.
After the Javits Center, the next most popular convention center in New York City is Murray Hill East, which is located in mid-town Manhattan. Accessible from all metro area airports, Murray Hill East has recently been renovated and offers in-house recruiting. It offers all business to business and consumer categories, DSL lines, wireless service, and usability testing. The center boasts that it is the most comfy, well-run and efficient facility in the metro New York City.
One other option for a convention center is Regus, which provides a professional business environment. The meeting facilities at Regus have everything you may need to make your business meeting as dynamic and comfortable as possible. They boast 4000 meeting rooms, training rooms and conference rooms that are available by the hour, half-day or day.
You will also find many local hotels that have convention centers in them like the Best Western and Comfort Inn Convention Centers. For a convention center that has easy access and is conveniently located near all points, you may want to consider Madison Square Garden. Also known as The Garden, this convention space is not only familiar to nearly everyone, it is easy to get to and will always provide an event to remember.
Regardless of which convention center you choose, be assured that you will find the basic necessities and more. Some centers go above and beyond what you may expect and actually offer such amenities as two-way mirrors.
Recommended Reading
Los Angeles Convention Centers
San Francisco Convention Centers