Los Angeles Convention Centers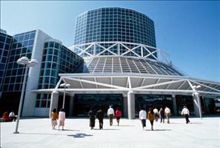 While there are many different convention centers in Los Angeles, the Los Angeles Convention Center is the most notorious.

This famous convention center a technologically advanced, architectural wonder, and is and is know around the world as a venue that tries to be diverse. If you are moving to Los Angeles, you may have opportunity to attend high profile events, trade shows, exhibitions and citywide conventions.
The center provides the basic necessities for a convention center such as a fax machine, internet access, a copy machine, as well as its many cafe, coffee shops and food court. The Los Angeles Convention Center is completely accessible and offers everything needed to make any convention a success.
In Studio City you will also find Universal Studios Hollywood, which is known for its exciting rides and entertainment, but also provides several unique meeting facilities. One of these facilities, The Wild West Arena, is certainly not a typical convention center but offers a meeting area holding 500-1200 people and features a dance floor, a mechanical bull and a bandstand. If you work for a more innovative company and looking to hold an exciting event, this is truly the way to make any team building or company outing something to remember.
After moving to Los Angeles, you can find many hotels located throughout the city that provide convention and meeting facilities within them that offer all the important business needs. If you are looking for one that best fits your exhibit or meeting, it is important to outline exactly what your needs are; e.g. outline things like how many people you are expecting. You can research the specifics of most convention centers online or though the Chamber of Commerce.
An important factor to consider when searching for a convention center is how accessible the facilities are for your guests and whether there is enough parking. Additionally, if your event is large or considered high profile, you should consider and inquire about security.
If you move to Los Angeles or just visit for an event, you will find there are many factors that come into play when looking for a convention center, but in Los Angeles there are many to choose from. By doing thorough research in what they offer, your event will have a great chance at success.
Recommended Reading
New York Convention Centers
San Francisco Convention Centers