Quality Hotels for Less than $100 in Los Angeles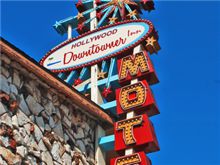 If you are thinking of moving in to the entertainment capital of the world, perhaps staying in a quality yet very affordable hotel will be the best for you. Shaving off your hotel bills without sacrificing quality will enable you to enjoy everything Los Angeles has to offer and not just the pomp and glamour of Hollywood.
There are many affordable hotels with which you can stay in Los Angeles without ever compromising on quality of amenities and services. Here are just a few of those hotels you can check in for less than a hundred dollars a night. This way you can better plan your activities, even if just a day trip in LA and maximize your stay in the beautiful city of LA.
At only $49.00 a night, Hollywood Inn Express South is definitely one of the most budget-friendly hotels in the heart of LA. It is purposefully located to be within reach to downtown LA, LA Business District, restaurants, main freeways, Hollywood, Universal Studios, and Chinatown.
For guests who want to live near where Hollywood big shots live, Guesthouse Beverly Hills Area is the hotel to be. Located near CBS television studios, Guesthouse offers modern day amenities for only $69.95 a night. Guests are given a free continental breakfast in the central courtyard. Rooms contain 25-inch TV, hair dryers, microwaves, and refrigerators. Guesthouse is not more than 5 miles away from UCLA, Universal Studios, and Rodeo Drive.
Located in Hollywood Boulevard is Hollywood Downtown Hotel, a $74.00-a night accommodation. The hotel is ideal for visitors who would like to see Magic Mountain, Disneyland, Hollywood Bowl, Universal Studios, Venice Beach, Paramount Studios, and Rodeo Drive. All hotel rooms have direct dial phones, cable television, vanity areas, air conditioning, and full baths. The hotel offers 24-hour room service, free continental breakfast, free parking, and low-priced airport shuttle services.
At only $74.62 a night, The Days Inn Los Angeles Mid Wilshire is a budget buster accommodation complete with 24-hour room service, non-smoking rooms, business center, meeting rooms, and fitness center. The Days Inn is the ideal choice for those who want to live the bustle of LA life sans the traffic and noise. It is located merely two blocks from Mid-Wilshire Business District right in the center of downtown LA and Beverly Hills.
The Econo Lodge Los Angeles is a $82.99 a night hotel near Westwood, Hollywood Bowl, UCLA, Civic Center, MGM Studios, and Venice Beach. Located north of the LA Airport and south of Santa Monica, guests are given free continental breakfast. Rooms have microwave, refrigerator, hair dryer, satellite / cable television, and air conditioning and have been fully renovated with new carpets, beddings, drapes, and painted walls.
The Comfort Inn West Sunset Boulevard is a 2-star hotel that can give you $90.95-a night for room accommodations. Comfort Inn is conveniently located in the Los Feliz district east of Hollywood and close to Hollywood's shopping centers and the famed Dodger stadium. Hotel features include 24-hour room service, non-smoking rooms, family rooms, free breakfast, wheelchair access, and data port.
Other budget-busting hotels in the LA area include Kawada Hotel, Inn Towne Hotel, Stillwell Hotel, Knights Inn, The Ritz Milner Hotel, Super 8 Los Angeles Downtown, and Saharan Motor Hotel, and all under $100.