1 Week Before Your Move
With only 1 week remaining, you must be excited and impatient. In this, almost last, phase there are still a number of assignments that must be completed before you go on the road. The next week's tasks are going to be focused mainly on the preparations for the trip and to the first days in your new residence.
Sort Your Items
This is the right time to sort your items and put aside the items that you plan to take with you. Usually you will want to start thinking on the packing for the trip. The amount of clothes and supplies you take with you depends on the time required for your moving company to deliver your goods.
Contents should include essentials such as traveler's checks, toilet paper, contact lenses, pet food, medication and the handy moving guide that you started in 5-7 weeks ago. Take any important documents such as social security cards and any financial documents along with any valuables such as expensive jewelry.
A professional moving company should be able to provide you with a Guaranteed Delivery Date service allowing you to decide the delivery date. Unless you purchased a Guaranteed Delivery Date service, plan smart and flexible for the event of unexpected delays or slight schedule changes. It is always better to have more than you need so pack enough clothes to survive even if your delivery is a little late.
It is recommended to plan ahead and pack the necessary items in a box that you label "Do Not Load". Start packing this box even before you start your final suitcase packing for the trip.
Additional Planning
Within a week you must have you kitchen uninstalled, empty, and clean. Take the time to think about the last night and figure out a simple meal plan. Decide what or where you'll eat the night before your move and each night in between homes.
Travel Arrangements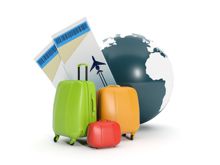 Confirm your family's travel arrangements (flights, hotel, rental cars, etc). Be flexible with your plans and be ready in case of a change of schedule. If you plan to stay at hotels, check that your stay can be flexible. To prevent any late fees, confirm that option with you car rental company as well.
Prepare Your Items for the Move
Free disassembles of furniture is another common service provided by moving companies. If this service is not offered by your moving company, start to disassemble your furniture. Although this is not an easy task, the more difficult tasks you tackle now, the less stress as you near the end.