However, if moving from SF to NYC during extreme weather conditions do not worry, with some simple preparations your items will make the journey safely.
What weather conditions are you moving in?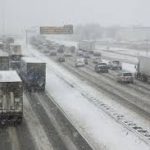 The seasons in San Francisco and New York are very different. The weather conditions when you leave San Francisco, in all probability will be vastly different to what you will be arriving into once your belongings get to New York City. For example, the summer months in San Francisco can often be quite cold. In New York however, summer is very hot and humid. Same in winter, San Francisco can get cold, but very mild compared to New Yorks 35 degrees Fahrenheit. Whichever season you move in, here are some tips to prepare for a smooth relocation during any extreme weather condition.
What can I do to prepare?
Snow
During winter in New York, snow, sleet or ice is normal. Snow is the hardest weather condition to move in. Professional moving companies are experienced at navigating these extreme cases, however, if the weather conditions are to harsh, they will need to postpone the move until it is safe.
Making sure that your items are dry during the moving process is essential. There is no worry of snow in San Francisco, as there have not been any serious snowfalls since 1976. In 2011 there was a very light snowfall. If you know it will be snowing in New York when your items are scheduled to arrive, or there is a possibility of snow, make sure that your furniture and boxes are protected prior to being loaded onto the moving truck. Placing a protective layer on the floor of your new home will prevent any water damage from occurring in case the outer layers of the furniture coverings got wet.
Pay attention to the weather forecast during your moving preparations and while your items are in transit. It is your responsibility to ensure that the pathway to your new home is clear for the movers to deliver your items. Having salt, shovels, portable heaters and waterproof trash bags will be extremely helpful for snowy days in New York City.
Rain
It can rain during any season, whether it's a light shower, or a heavy downpour. Usually rain is not a problem to move in, except, if it's an extreme case. In the event that it is unsafe to make the move during the rain, it is best to delay your move date. If you are hiring a moving company to transport your belongings, they will reschedule a new pick up date.
Just as during the snow it's important to keep your belongings and your home dry, it is equally as important during the rain. Heavy rain can occur in San Francisco, New York City and throughout all the states the moving truck will be driving through. Prior to having your items loaded onto the truck, make sure that the truck is completely sealed with no leaks.
Having a few essentials such as: towels, umbrellas, tarps, extra waterproof boots and rain jackets can all come in handy for the crew on moving or delivery day.
Heat
Moving from San Francisco to New York City during extreme heat can be uncomfortable and in the United States, the summer months are the busiest for the moving industry. However, moving during hot summers, or months when the sun is shining brightly doesn't pose any challenges for moving.
To prepare for a move during the summer heat and sunshine, make sure that there is plenty of water, hats and sunblock available for everyone helping with your move. It is easy to become dehydrated and get sunstroke. Encourage regular breaks be taken in a shady and cool area.
What is the best time of year to move to NYC?
As New York City can be extremely cold and wet during winter, all the way up to the end of April, having a spring/summer move, May through September is the best time of year to move to New York City.
Recommended reading