Moving To NYC From SF During Extreme Weather Conditions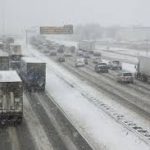 Long distance moving from to NYC from SF is going to be an involved and difficult process even during the best of conditions, but when you find yourself facing down gathering storms storms in the San Francisco or bay area, smothering heat, or bitter cold cold in New York, it can become even worse. Fortunately, changing your real estate situation does not have to be a bitter pill. By taking a few commonsense steps in preparation there is no reason why your long-distance move from the Golden Gate region should not go smoothly.
It is important to protect your belongings, and the good news right out of the gate is that cardboard boxes are far more durable than they appear. As long as they are properly packed and sealed, everything inside should make the trip to to New York without incident. When it comes to items such as furniture, artwork, or clothing, you will want to make sure everything is properly covered or packed and well insulated against the elements. Most San Francisco or bay area moving companies are happy to sell you anything you need in this area to make proper preparations.
If at all possible, have your destination prepped in anticipation of any severe weather. Put down towels or rugs or plastic along the most well-traveled areas to prevent tracking in mud or rainwater. If you are moving in the winter, have those utilities in New York turned on ahead of time so the process can at least be a warm one! Similarly, you will want to prep the property you are moving from to prevent allowing mud, dirt, and water to go with you on your move.
Finally, if you want to spend as little time as possible transferring boxes from point A in San Francisco to point B in New York, consider utilizing an assembly line approach. Having multiple people involved and responsible for different locations and items can really streamline the process and allow you to get everything properly loaded and yourself out of the inclement weather a little faster. Again, it is ideal to repeat this process at your new location if you have the available manpower for it.
However, if moving from to NYC from SF during extreme weather conditions do not worry, with some simple preparations your items will make the journey safely.
What weather conditions are you moving in?
The seasons in New York and San Francisco are quite different. The weather conditions when you leave San Francisco, in all probability will be vastly different to what you will be arriving at once your belongings get to New York City. For example, the summer months in San Francisco can often be quite cold. In New York however, summer is extremely hot and humid. Same in winter, San Francisco can get cold, but very mild compared to New York's 35 degrees Fahrenheit. Whichever season you move in, here are some tips to prepare for a smooth relocation during any extreme weather condition.
Keep an eye on the forecasts for both New York and San Francisco in the days leading up to your move. Doing so will allow you to make proper preparations, and in the worst-case scenario, perhaps even delay the move until more accommodating conditions prevail.
Make sure you have all the proper clothing, such as waterproof shoes and slickers for rainy weather, or heavier coats and gloves for snowy or icy conditions. As a New Yorker, you will need these anyway! In any instance where the weather is questionable, make sure and go slowly as you transport items and pack up (or unpack), since moving too quickly and recklessly can often result in accidents. Adverse weather conditions between New York and San Francisco almost always mean adding a few hours to your schedule.
What can I do to prepare?
Snow
If you have ever moved to San Francisco, you know that rain and fog are normal in the bay area. During winter in New York, snow, sleet, or ice is normal. Snow is the hardest weather condition to move in. Professional moving companies are experienced at navigating these extreme cases, however, if the weather conditions are too harsh, they will need to postpone your San Francisco/New York move until it is safe.
Making sure that your items are dry during the moving process is essential. There is no worry of snow in San Francisco, as there have not been any serious snowfalls since 1976. In 2011 there was an exceptionally light snowfall. If you know it will be snowing in New York when your items are scheduled to arrive, or there is a possibility of snow, make sure that your furniture and boxes are protected prior to being loaded onto the moving truck. Placing a protective layer on the floor of your new home in New York will prevent any water damage from occurring in case the outer layers of the furniture coverings got wet.
Pay attention to the weather forecast during your moving preparations and while your items are in transit. It is your responsibility to ensure that the pathway to your new home is clear for the movers to deliver your items. Having salt, shovels, portable heaters, and waterproof trash bags will be extremely helpful for snowy days in New York City.
Snow is definitely one element that you want to plan for as you prepare to depart from New York. Self-moves under such conditions are not recommended. A professional moving company has the necessary experience and equipment for handling scenarios exactly like this and will provide top quality protection for your valuables from the cold and moisture. They can also advise if conditions are simply too dangerous to attempt a move and suggest whether or not to postpone until conditions are more favorable.
Make sure utilities are shut off the day after you leave for your moving from to NYC from SF. The last thing you want to do is deal with the difficulties of a long distance move with no heat or lights. Similarly, you want the utilities at your new location up and running in advance of your arrival.
Be sure that your children and pets are taken care of and kept warm and dry during this process. If possible, make arrangements for them to stay with friends or family in San Francisco up until the time you are actually ready to pull out. Take extra precautions with pets, as they do not need unnecessary exposure to the elements.
You should also map out your travel route between New York and San Francisco ahead of time, and make sure your vehicle is prepared for traveling under adverse conditions. Have the battery, coolant, antifreeze, and wipers checked before embarking on that long distance relocation.
Rain
It can rain during any season, whether it is a light shower, or a heavy downpour. Usually, rain is not a problem to move in, except, if it is an extreme case. In the event that it is unsafe to make the move during the rain, it is best to delay your move date. If you are hiring a moving company to transport your belongings, they will reschedule a new pickup date.
Just as during the snow it is important to keep your belongings and your home dry, it is equally as important during the rain. Heavy rain can occur in San Francisco, New York City and throughout all the states the moving truck will be driving through. Prior to having your items loaded onto the truck, make sure that the truck is completely sealed with no leaks.
Having a few essentials such as: towels, umbrellas, tarps, extra waterproof boots, and rain jackets can all come in handy for the crew on moving or delivery day.
If you have moved to San Francisco, then you know nothing saps the spirit like a rainy day, and it is certainly nobody's idea of a great day to begin a long-distance move. When your moving day coincides with Mother Nature's attempt to rain on your parade, consider the following.
Invest in garbage bags and towels. Garbage bags are efficient and inexpensive methods for providing an added layer of protection, especially for books, papers, or other delicate items. A garbage bag with a hole torn in the bottom can be draped over hangars and serves as an excellent temporary garment bag. Towles can be used to dry off boxes and items as they are loaded in order to prevent any leakage which may cause damage to valuables. They are also quite handy for when you find yourself soaked to the bone during the loading or unloading process.
We mentioned the assembly line earlier. Nowhere is this more efficient and welcome than under rainfall conditions. This prevents any one person from having to run back and forth over a distance and increases productivity almost exponentially.
Heat
Moving from San Francisco to New York City during extreme heat can be uncomfortable and in the United States, the summer months are the busiest for the moving industry. However, moving during hot summers, or months when the sun is shining brightly does not pose any challenges for moving.
To prepare for a New York move during the summer heat and sunshine, make sure that there is plenty of water, hats, and sunblock available for everyone helping with your move. It is easy to become dehydrated and get sunstroke. Encourage regular breaks be taken in a shady and cool area.
April through September is the prime season for moving in the United States. Schedules for moving providers fill up quickly as a result. Plan your departure from San Francisco early as possible and get on the calendar with your chosen service provider. Six to eight weeks out from the moving date is recommended. Proper planning reduces stress levels and optimizes organization.
In a similar vein, pan to start early on moving day. Most moving providers like to start early, especially on days where extreme heat is forecasts, as this allows them to get much of the heavy lifting out of the way before the heat of the day sets in. Heat is typically at its peak between 11AM and 3PM.
Obviously, you want to protect heat sensitive belongings, and you would be surprised at just how many there are. Electronic equipment such as laptops, stereos, and other items are extremely sensitive to the heat and need to be packed allowing for proper ventilation. Ideally, they should travel with you in your vehicle to your new home. Your CD, DVD, or record collection should also be protected as they can all warp very easily when exposed to extreme heat.
Houseplants do not usually do well during moves in either extreme heat or cold. It is advisable again to move them with you in your vehicle from San Francisco if at all possible, in order to allow for some controlled climate benefits.
What is the best time of year to move to NYC?
As New York City can be extremely cold and wet during winter, all the way up to the end of April, having a spring/summer move, May through September is the best time of year to move between New York and San Francisco. This period of time is also optimal when it comes to various elements such as housing costs as well as settling in ahead of the start of a new school year. It also avoids the holiday rush, which New York is well known for, and allows movers to take advantage of off-season moving rates.
Recommended reading
Moving In New York
Moving To The East Coast