Moving to the East Coast
Are you thinking of moving to the East Coast of the US? You'd be surprised at how many folks do just that every year, and for any number of reasons. While the western half of the US certainly has a lot to offer, the east coast provides a number of cultural, natural, and economic options that are too good to be ignored.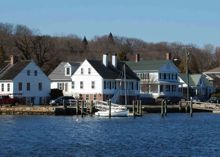 For starters, you can visit any number of states within just a few short hours' drive from each other. The variety found among east coast states has to be experienced, with the vacation haven of Florida, the southern living of North and South Carolina, the unique attitudes and characters found in New Jersey, New York as the city that never sleeps, and the rich foundation of academic life found in Massachusetts and Connecticut. Almost every state is distinctly and uniquely different from the rest.
International travel also becomes a lot more convenient. Mexico, Canada, South America, France, and Britain are all within easy reach when departing from the US East Coast. Far more vacationers travel to Europe than China or Japan, and with the closer proximity from the east coast to these destinations, our vacation options just got a lot broader.
While some believe the climate is preferable in the west, the east coast offers the full range of seasonal experiences, with cold winters giving way to beautiful springs and warm summers up and down the eastern seaboard. Who knows, you may even grow to enjoy the snow!
One thing that the east coast has in abundance is a rich historical heritage. You have the very first colony ever established in North America located in Jamestown VA, the first union state in Delaware, the first university to be founded with Harvard, the first flight in North Carolina, and numerous other historical events. It is quite the experience to walk through Philadelphia and realize that you are standing right where the country was founded.
So for those of you asking "why go?", these are but a few of the answers. There are many more. There is a rich and diverse culture that makes up the US east coast, not to mention the opportunity that is available for you and your family.
Recommended Reading
Moving to the West Coast