Moving in New York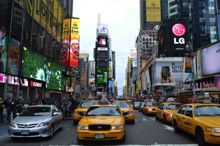 Preferably a really hot day where you have to climb dozens of stairs. Or maybe an icy day where no one can seem to be bothered to shovel a sidewalk. Either way, you'll face some specific challenges when moving to New York. Here are a few of them, as well as a few tips on living in New York in general.
City streets aren't made for big moving trucks. So make sure you talk with your moving company about any challenges they might face navigating to your new home -- as well as any extra costs they mean for you.
New York City moving companies won't voluntarily scale the stairs to your sixth-floor walk-up - they'll charge extra for the sweat. Find out what the company charges for New York-specific challenges that you might face. Additional fees might include a long walk from truck to house, lots of stairs; or if they need to use a smaller 'shuttle' truck to get through narrow city streets when a big truck just won't make it.
Moving in New York always takes longer than you estimate, so if you're renting a truck, rent from a company that allows after-hours drop-off. I've watched two roommates frantically throwing the last of their belongings into the living room so they could return the truck on time.
Parking signs in NYC are pretty explicit. Though reading signs may be the last thing you're thinking about when you're parking your moving truck, it may save you a big ticket from an unforgiving cop (and talk with your moving company about who's responsible for tickets -- you or the moving company?).
Plan to switch over your utilities in advance. You don't want to swelter in any apartment while you're waiting for the air conditioning to kick in.
Here are some other tips on living in the City.
Taxis
: When I moved to Queens, I saw a constant supply of those black livery cabs -- conveniently perched at every corner. After taking one or two, I quickly realized that $10 isn't a reasonable fare for driving six blocks. Whenever you have the choice, go yellow. If you have to go livery, ask for a set price before you get in.
Security Deposit
: I paid mine when I moved in, assuming it would go into a bank account where it would sit until I moved. This is idealistic thinking. When my first housemate moved out and wanted his security deposit back, the landlord couldn't give it back right away due to complications with their bank, otherwise known as they spent it on a TV. The
HousingNYC
Website will help you make sure you know where your deposit is going before you sign a lease. Also, be sure to check out
renters insurance
as well.
Parking
: To help you avoid parking tickets, The Department of Transportation has graciously laid out the
alternate side parking rules in calendar form
.
Subway reliability
: If you're used to efficient public transportation, forget about it when you move here, it's too painful to remember. Always factor in an extra 25 minutes if you have to be somewhere on time. While most people will sympathetically excuse lateness due to subways, a job interview will not. If there's rain, snow, or otherwise inclement weather (the MTA only operates well in sunshine), give yourself 45 minutes.
Staying mobile
: Cat hair. It was the first thing I encountered when moving into my first apartment. I picked it off my clothes on the way to work, I drank it in my beer at night and chocked on it in my sleep. Within two weeks I was looking at new apartments. Two morals here: Don't house with pets unless you're the one taking care of them and (pets or not) make sure you can move whenever you want to, because chances are you won't fall in love with the first place you pick. This means knowing the parameters of your lease. Signing a year-long lease might not be the best idea. Instead, find a monthly or half-year lease. If you join a gym, pay attention to what membership entails. Mine, for example, won't let me quit my membership unless I prove (via a new lease) that I moved out of Queens.