Proper Lifting Techniques
Most long distance movers have had proper training and know how to lift heavy objects while avoiding injury, but a lot of us could use a lesson in how to properly lift heavy objects like moving boxes around the house.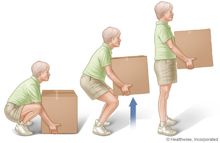 Lifting doesn't have to be dangerous, and as long as you know the proper technique, you can prevent back pain or injury from lugging those long distance moving boxes around your house.
If you put moving long distance aside for a moment and think about how often we put stress on our backs, you'll find that we do it almost every day from bending down to pick something up like laundry, pets, or even a piece of paper. Even small items can cause back pain if poor lifting form is used.
One of the most common moving mistakes in lifting is using the back muscles. When lifting, one should instead use the leg and buttock muscles. It is important to create a solid foundation for your spine by always bending your knees when lifting heavy objects like long distance moving boxes.
Another common mistake is lifting an object too far from the body. Watch how your long distance movers get close to what they are lifting. By keeping the center of weight no more than eight inches from your body, it decreases pressure on the spine.
There are a few more guidelines you should take into consideration before lugging long distance moving boxes and other items around. Try not to reach when lifting items higher than chest level, as it puts a considerable amount of pressure on your lower back. When lifting items above your head, make sure to use a stool or a ladder.
Additionally, twisting when lifting a heavy object adds more force to your back. If you must turn when lifting, pivot your feet instead of twisting your back, and always make sure you have stable footing.
Keep in mind that the more you bend and lift, the more fatigued your muscles become, and the more fatigued they become, the greater the risk of injury. If you will be lugging around your moving boxes, take frequent breaks to help rejuvenate your strength. This is why some long distance movers periodically switch tasks between lifting and packing.