Moving Mistakes
Mistakes are natural and we learn from them. The lessons learned can be applied if you have made mistakes with a previous move, or plan to move again in the future. However, even the smallest mistake when moving, could have an emotional, physical or financial impact.
To help prevent any mistakes from occurring and avoid moving scams, we have listed some common mistakes that can be avoided.
Not Researching Moving Companies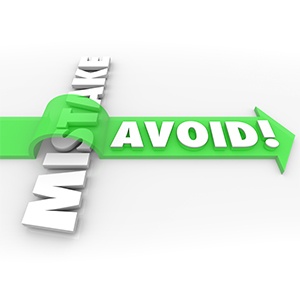 Spending time researching reputable moving companies is vital. Even if you have been recommended a company, spend some time checking them out, reading reviews, viewing their Better Business Bureau records and ensuring they are licensed with the U.S. Department of Transportation. It is recommended to obtain at least three quotes from different moving companies.
Not Asking Enough Questions
You can never ask too many questions. Before hiring any moving company, ask as many questions as needed. And when you do decide on a company, continue to ask questions. It is important that you understand and are clear about the process of the upcoming move, the estimate, insurance, and any additional or hidden fees that may be applied.
Not Allowing Enough Time For Packing
We often think things will take far less time than they actually do. It's the same with packing up our belongings and planning a move. Being prepared and organized will help move towards that approaching moving date with ease. Allow yourself plenty of time, ideally at least 8 weeks, if permitted. You can view our Moving Checklist to make sure you don't forget anything.
Packing Boxes Too Heavy
Heavy items should not be packed in large boxes. If you will be packing books, which can become heavy, or any other heavy item, use a small box. These are easier to lift, and will not break, if packed correctly.
Packing Non-Allowable Items
Check out or list of Non-Allowable Items to make sure you don't pack anything that is not permitted by law to be transported by a moving company.
Forgetting To Label Boxes
There is almost nothing more frustrating for both you and the movers, then not knowing where a box goes, or what's inside the box. Make sure to label each box clearly with the designated room, the contents, and any special handling instructions.
Losing Your Bill Of Lading
This piece of documentation, the bill of lading, is the contract between you and the moving company. Keep it with you throughout the moving process and refer to it when needed.
Not Getting The Right Insurance
Depending on what items are being moved, understanding your options for Moving Insurance is important. In the event that something does happen to any of your items, such as damage or loss, you'll want to know that your moving insurance will cover what the items are worth. Read through the estimate/contract and make sure it clearly outlines your insurance options. If it doesn't, ask your relocation representative about insurance. Don't make the mistake of underestimating the importance of moving insurance.
With all this taken care of, there's not much room for mistakes!