Moving with Pets - The Basics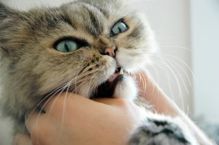 Pets are a part of your family and as you plan your move, you must consider the preparations required for your pet's relocation as well. Whether you are moving locally or long distance, keep in mind that moving is as stressful for your pets as it is for you.
Fortunately, pets stress can be reduced with good planning. Research shows that animals sense and react to stress similar to people and the easier you make the move for your pet the easier it is to recover from the move.
Maintaining Daily Routines
As you start packing and planning your move, keep your pets' routines as regular as possible. If your pet is used to eat, exercise or play at a certain time, keep its routine and continue to do so at the same time.
Temporary Housing Prior to Move Date
On the last few days prior to your move date, it is recommended to have a friend or a relative watch your pet. This way you will reduce your pet's stress and at the same time reduce the chance of your pet getting upset and running away, or hiding in a moving box that is about to be transported by your movers.
Visit Your Veterinarian
A few days Prior to moving, visit your veterinarian for a thorough physical exam, making sure all vaccinations are current, especially rabies. In addition, use this appointment to get copies of your pet's records and check to see if he can recommend another veterinarian at your new location.
If your pet is on any medication, ask your veterinarian to provide you with enough supply so you won't run out before getting settled in your new residence. In addition, ask your veterinarian whether your pet should be tranquilized during the move and learn how to do so.
A few weeks prior to your move, speak with a veterinarian in your new destination to learn if your pet complies with the local laws and regulations regarding importation of animals. Keep in mind that each state has different laws and some counties and municipalities have their additional rules and ordinances.
If your pet does not comply with all regulations, you still have enough time to complete all requirements and get all the papers and certificates required by your new state or county.
This article is provided California New York Express as part of the company's comprehensive Service Pledge. We, at California New York Express, believe that a smooth move starts with education and understanding of the services provided.
California New York Express is a leading moving company, providing superior coast to coast relocation services since 1995. For more information, please feel free to contact us.