Packing Your Appliances - Part 1
Appliances can be a little hard to handle and safely pack. On one hand these are large bulky items that are heavy to lift and cannot be packed in a box and on the other hand, these are expensive delicate items that must be transported safely.
Packing the Refrigerator and Freezer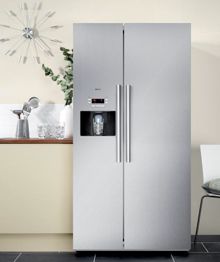 Unless your move is a short local move and expected to be completed within just a few hours, remove all perishables from your refrigerator and freezer. These items cannot be transported by your moving company as they are likely to spoil.

Before packing and sealing your refrigerator and freezer, be sure to dry them out completely to prevent any mold growth and bad odors. This is especially important if your refrigerator has an ice maker. Don't forget to empty and clean the evaporator pan.
Remove all removable parts and pack them in a separate padded box. It is recommended to use picture boxes for these parts. If you didn't save the original box, wrap your refrigerator in moving pads and secure the pads with tape or shrink wrap. Keep in mind that most moving companies include appliances wrapping service in the price.
Packing the Microwave Oven
Before you pack your microwave oven, remove the glass tray, wrap carefully, and pack them in a padded box. You can pack the tray with other flatware such as plates.
If the original box is still at your possession and it is in good condition, use it to pack your microwave oven. If you discarded the box, you can use any box that is large enough to accommodate the microwave oven but be sure to pad it or to wrap the oven with a moving pad.
Packing the Dishwasher
A few days prior to your move date, clean and dry the dishwasher thoroughly. Leave the door open to allow the dishwasher to dry out completely. Remove all removable parts and the hose, dry out, and pack in a separate box. Again, if you don't have the original box, pad a large box or ask your mover to wrap the dishwasher in moving pads.
Recommended Reading
Packing Your Appliances - Part 2