Moving with Your Kids to Los Angeles - Part 2
While the first part of this article covered the attractions and advantages associated with moving with kids to Los Angeles, this article covers the disadvantages that must be considered in this situation.
Environmental Conditions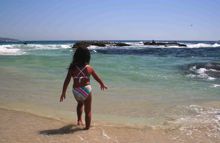 Los Angeles is very crowded, dirty and loud in some parts of the city. The air is one of the most polluted in the country and it may be dangerous, especially for kids who grew up in cleaner environmental conditions. If your kids suffer from allergies or any other lung conditions, you may want to reconsider your decision of moving to Los Angeles.
Since most transportation in Los Angeles is done by cars, there is always smog in the air and the lack of rain in the summer (and sometimes even in the winter) prevents the air from getting cleaned from time to time.
Education
The education system in Los Angeles is known to be very good. The city offers some of the best public schools and some excellent private schools. The common problem is commuting. To go to a good school your kid may have to commute long distances every day and the lack of an efficient public transportation system may make this fact a serious problem.
Education in Los Angeles is pricey, if you choose to send your child to a private school be ready to pay the high price.
Expenses
Although not as expensive as New York City, Los Angeles is known to be one very expensive. Gas, food, housing, these are all expensive expenses, compared to many other states and cities in the country. Moving to Los Angeles with children may even make it more expensive as you have to sponsor your kids' after school activities, toys, etc.
Weather
The weather in Los Angeles may become another issue. This fact is especially true for those who move to Los Angeles from the colder east coast states. During summer, the temperatures may rise above the hundreds and it gets very hot and dry.
Safety
While some parts of Los Angeles are safe, others are unsafe and known as crime centers. As you plan to move to Los Angeles, be sure to inspect the crime levels in the areas you are considering to set as your residence.