Public Transportation in Los Angeles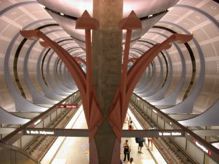 The main preconception about Los Angeles is that everyone has to have a car. While most people do have cars, there is in fact public transportation. If you are moving to Los Angeles, you will learn that the city has the second largest public transportation agency in the country and operates more than 1,500 buses.
To many peoples surprise, Los Angeles does actually have a subway system that runs from Downtown LA to Hollywood in approximately 12 minutes.
The bus system in Los Angeles can also be easily navigated with bus lines like Greyhound, Atlantic Express of LA, First Transit, and First Student. If you are just visiting the City of Angeles, you can use these bus lines as a scenic tour of the city!
One of the most famous modes of public transportation in Los Angeles is Metrolink which transports people comfortably through several southern California counties in peace and quiet.
Metrolink trains operate Monday through Friday on all lines, and weekends on the San Bernardino, Orange County, Antelope Valley, and Inland Empire-Orange County Lines. Metrolink is operated by the Southern California Regional Rail Authority and offers service in the Los Angeles, Orange, Riverside, San Bernardino, Ventura, and North San Diego areas. These trains are a great way to get where you are going as well as get there in a comfortable atmosphere.
One of the best modes of public transportation is riding your bike! Southern California is famous for its sunny weather so traveling by bicycle will not only get you around economically but also get your cardiovascular exercise in for the day. Not to mention the great things you will be doing for our environment so don't forget to bring your bicycle when you move to Los Angeles.
The County of Los Angeles takes bicycle transportation seriously and offers information on bicycle safety, routes and bicycle parking. While the cost of gas rises and pollution continues to escalate, more and more people are turning to their bicycles as a mode of transportation to and from their places of work. In fact, there is a committee that ensures that pathways are kept safe and well maintained and that laws are followed by drivers and bicyclists alike.
Los Angeles is making great strides to promote the use of bicycles and to get people out of their cars and on their bikes. This effort will help in so many ways, including with gas prices and pollution as well as alleviating the extreme traffic problem on the freeways of Los Angeles.